Gibson's Tiny World
E-Rude-ite reviews by our resident phlebotomist.
---
Various Artists
Groove Women from the Chill Cafe Lounge
Putumadre Network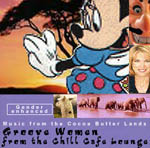 Over the years, an intricate web of musical links has formed across the world, despite political borders, linguistic variables and tastes in television mini-series. "Groove Women from the Chill Cafe Lounge" (subtitled 'Unrelated tunes by gender identified artists from the Cocoa Butter Lands') documents the extraordinary power and far-reaching influence of music from the some of the famed cocoa butter lands. Here are their most exhilarating sounds, exquisite and lyrical music by some of the planet's greatest female and gyno-social oriented artists. This is a global party, a veritable feast of womanly voices featuring cutting-edge world music and soothing traditional sounds, a collection of unforgettable songs from the countries where cocoa butter and its sweat-shop derivitives originate. Thrill to classical divas like Ensalada Verde, rendering the tarantella like you have never heard it before. Hear tablas replaced by syntheizers as they gently carry the voices of western women to eastern dream worlds. These 27 tracks (compiled by bona-fide registered experts so you don't have to be bothered with the guesswork and labor of exploration) display the depth, breadth, and heights the soul can reach when offered a good hook line and coffee-shop friendly packaging. This is sure to be on everyone's Top 10 list this holiday season, so get a stack of them to put next to your cappuccino machine today. As the producer told us in an e-mail interview last week, "Of all the lousy chill cafes in the world, and you, dear listener, have to walk into mine..." Make sure you have plenty on hand for all those folks you can't really bother to buy a nice present for this Christmas. - Louis (Double-Skim-Latte) Gibson
(Coming soon: Café Dudes: Macho Grooves from the Penile Colony)
---
Putumayo Presents a New Groove
Putumayo (www.putumayo.com)
Putumayo is going in a new direction. Instead of churning out another groove CD that sounds just like all the other groove CDs, this one sounds like all the hair and makeup ads on TV. Hey, it's progress. - Louis "Luscious Lashes" Gibson
---
Various Artists
Chill Out World: The Highlands Edition
Bishopaudio
This compilation bears so little resemblance to actual world music, you would honestly get a more international musical experience by phoning a series of embassies and being put on hold. Each track is like flying to a different far off land, and never making it past the duty free shop. Everything has been sanitized and pre-packaged for your consumption. Except I'm using "consumption" in the tuberculosis sense. One can only assume that the producers spent so much time in the highlands, that hypoxia has damaged their brains. - Louis 'please hold for an operator' Gibson
---
Brave Combo
Holidays!
Rounder (www.rounder.com)
According to an obscure nineteenth-century German political philosopher, history unfolds the first time as tragedy, the second time as farce. All musical glossolalia and self-parody, Brave Combo's "concept album" heads straight to the second act, like Sisyphus (or Bill Murray in Groundhog Day, commemorated here), consigned to an endless, bitter rehearsal of schtick gone south. But wait! This product was bankrolled by TM Century Comedy Network, who sought "an album that would fit TM's criteria and also be a worthwhile vehicle for a group like Brave Combo." Pure simulacrum. (Animated on The Simpsons "Co-Dependents Day" special, have the Brave finally found their métier?) So much cheeky talent squandered, so much Tin Pan Alley for the twenty-first century masses. Yo, Homer, pass the remote. - Louis "Laughing Gas" Gibson
---
Ladysmith Black Mambazo
Long Walk To Freedom
Heads Up
This CD has so many celebrity cameos, you keep waiting for an acceptance speech. Melissa Etheridge tries to revive the tired "Diamonds on the Soles of her Shoes." Sarah McLachlan's "Homeless" made me wish I was headphoneless. And when I heard Zap Mama on "Hello My Baby" it made me say "Goodbye Lunch." Every song sounds like a lifesavers commercial, except this lifesaver makes drowning look like an attractive alternative. - "Ladysmith" Louis Gibson
---
Afro Celt Sound System
Volume 5: Anatomic
Real World
Anatomic? How could something so uptempo seem so Catatonic?
It's just too dull for words. - Louis Slumbering Gibson
See for yourself at Amazon.com
---
Andrew Skeoch & Sarah Koshak
Favourite Australian Birdsong (Listening Earth)
iTunes preview track review
Far be it for me to cry fowl, but I'm virtually certain that the sounds on this CD did not all come from the throats of Mr. Skeoch and Ms. Koshak. Clearly these kids had help: from an uncredited R2D2 perhaps? And what was with all those nonsense lyrics? Didn't they get the memo that post-Katrina it's all about meaning? Plus I distinctly heard more than one insect buzz by. I'd get that studio of yours fumigated if I were you. If you need to hear crazy bleeps and bloops, go play with the phone. - St. Louis Gibson
---
Andreas Vollenweider
Vox
Kin Kou Music
The New Age harpist and dead-on Richard Simmons impersonator is baa-aack with more over-inflated, worldish hoo-hah. When he whispers "Hey you, come in" like the witch in Hansel Und Gretel, even malnourished Bavarian rugrats who are jonesing for a sugar rush would run for their lives. Other lowlights: a scary simulacrum of a Hitler Youth rally, a weird yet criminally inept attempt at scat-singing and a series of bloated, pretentious orchestrations. A numbingly non-erotic Teutonic Barry White homáge could send the already moribund Northern European birth rate straight down the crapper. It should be noted that this release is presented in a format wherein both sides of a single CD are programmed with audio and/or visual content. It's a great idea, but flip this guy over at your own risk! - Louis (Acropolisi) Gibson
CD is probably available at Amazon....
---
Madooo (Madhukar Dhas)
To the Fab Four from Liverpool... A Tribute from India
Madooo Records (www.bigdooker.com)
Madooo, a Madras-born, boarding school-educated, violin-playing nerd (we're told) who worshiped the Beatles, lost his place in medical school and went on to warble the lead in an Indian production of "Jesus Christ Superstar," sang jingles and Close-Up toothpaste ads, toured the Midwest with a Vietnamese rock band, impersonated Elvis and Jim Morrison, and woodshedded with a New York gospel choir. Now, in the histrionic role of a lifetime, Madooo tacks between tragedy and farce in a bizarre execution of the Beatles oeuvre, capped with a morbid medley over audio reportage on Lennon's assassination (with added bonus of a "radio edit"). In sum, to invoke the cautionary phrase of the Lennon-McCartney chestnut also Madooodled here, "You Can't Do That."
Nota bene: Rumor has it that putting this CD in the microwave and then playing it backwards finally reveals the true identity of the Walrus. - Louis (Maharishi) Gibson
---