Paddy Moloney & Sean Potts
Tin Whistles
Claddagh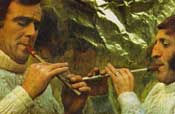 This album is well-made, but be warned: you must really like tin whistles. These men helped found The Chieftains: their musicianship is unquestioned and the tunes are lively. The tin whistle is a charming adornment to most Irish records; you just need a tolerance for them for a full recording, that's all.
It's easy to tell them apart: Potts is on the left speaker, Moloney on the right. Paddy's tone is high and somewhat hollow; he usually starts the tunes. In a few bars Sean will step in: a grittier sound, almost like a wooden flute. Mostly they run together; the touches of harmony, like on "Father's Shirt," help immensely. On ballads they go it alone: Potts trilling through "Jimmy Mo Mhile Stor," Paddy on "Draighnean Donn," low and mournful. And a pattern develops: air follows reel, a similar approach to every song. There's nothing wrong with that, and those numbers are very solid. But you remember the surprises.
The theme is traded on "The Connaught Heifers," each solo trying to outdo the last. The energy keeps building, and here comes the bodhran: a martial beat that keeps us moving. "Julia Delaney" has the same duel, but better: whistles shout at each other, run counter-lines, stray wildly from the theme, to which they always return. A passionate dance at fever pitch, this will stir your blood.
Lines drift apart on "Boy in the Boat." Their parts are the same but played so the notes interlace. How rich it sounds, how satisfying. The result is a mixed bag: some tunes will appeal to whistle fans and some will be loved by everyone. - John Barrett