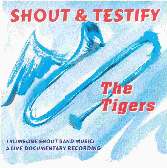 The Tigers
Shout and Testify: Trombone Shout Band Music
FireAnt (www.fireantmusic.com)
Stand back friends. I am not sure you're quite ready for the sound of seven trombones, baritone horns and sousaphones testifying and bringing on the spirit to churches in the Charlotte, North Carolina area.
Percolating beneath most of our radar is the powerful trombone shout band music of the United House of Prayer for All People. This album was recorded at three churches in 1991. Band leader Tim Brown has since passed away, but fortunately, the tradition lives on.
With basic snare drum and cymbal accompaniment, there is a similarity to New Orleans brass bands, but when The Tigers are really rocking they remind me of the climax of a Charles Mingus Workshop experiment - loose, swinging and soulful, delivered with such abandon that there is a feeling of incipient chaos. But there also is care and art here as well as emotion.
Most of the 7 cuts (two of which are over 12 minutes long) are uncredited. (Are they P.D.; created by the band?) Most of the "tunes" are just a mix of power riffs that rise and fall in energy along with the congregation. It may say something about the band situation, that two members are identified simply as Little Willie, and Butch, and that there is a disclaimer in the notes distancing the Church from the recording. (The project was backed by local arts councils.)
There is one short vocal in the program. On the rest, the preacher can be heard testifying in the background, but the person who did the recording is completely focused on the band. Sometimes they let the testifier have center stage, but eventually he is overwhelmed by trombone power. These folks can get any congregation to fall out with their powerful and primal music. - Stacy Phillips