The Stripling Brothers
Volume One
Volume Two
Document Records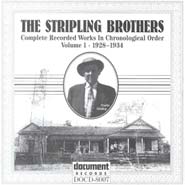 Unless you're a collector of old records, or a fiddler with an interest in obscure tunes, you may not have heard of the Stripling Brothers. But Charlie and Ira were Alabama's most popular and well recorded fiddle/guitar team in the early days of recorded country music. From 1928 to 1936 they recorded 42 sides, first for Brunswick/Vocalion, and later for the newer Decca label, which featured the finest old-time dance music ever to come out of western Alabama.
Although not from a musical family, they learned to play early in life and lived in an area with a rich fiddling tradition. Before embarking on a recording carreer, Charlie was winning fiddle contests against the likes of Earl Johnson, A.A. Gray, and Alabama's own Y.Z. Hamilton. He quickly developed bowing techniques and tricks such as strumming the strings of his fiddle that assured a place in the winners' circle every time.

The first of these two volumes features the earlier Vocalion recordings, among them great performances like "Wolves Howling," "Horse Shoe Bend" and "Big Eyed Rabbit." "The Lost Child" deserves singling out as a true masterpiece. Along with traditional tunes like these, the brothers played a full complement of waltzes and what Charlie called 'ragtime breakdowns'. The latter were more popularly oriented original compositions created to satisfy the needs of modern dance crazes like the two-step and fox-trot. The Decca sessions on the second CD feature more of this material, some of which is based on popular melodies learned from the radio. The classic "Forty Drops," played in the difficult key of F and modeled on an old sheet-music rag from the late 19th century, is a stand-out. All but two of the recordings are instrumentals, the exceptions being the perennial "Weeping Willow" and "Railroad Bum."
Although the Decca recordings showcase Charlie as more of a pop fiddler, he continued playing a regional repertoire of traditional tunes at dances, contests and other civic events well into the 1950s, and was recorded by the Library of Congress in later life. Ira Stripling's skillful guitar accompaniment was always appropriate.
Although the sound quality on a handful of the 42 selections is on the poor side, the set is nonetheless valuable and contains some of the most inventive old-time fiddling that Alabama has to offer. - Frank Dalton
Available at cdroots.com:
Volume 1
Volume 2