Tim Sparks
Neshamah
Tzadik (www.tzadik.com)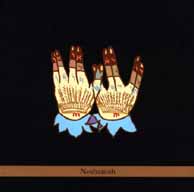 For North Carolina guitarist Tim Sparks, the path from 1993 National Fingerstyle champion to recording an album of Jewish music began when he adapted Tchaikovsky's "Nutcracker" for the solo guitar in 1992. Sparks explored the possibilities of chord substitutions and harmonization that rises when one adapts classical music to the non-classical guitar. Similar to the problem that rises when one translates poetry into another language, Sparks worked to keep the core harmonic vocabulary while translating "Nutcracker" to the guitar.
Sparks then moved to the music of Bartok, which in turn led to a discovery of Balkan music. It was just a short hop to klezmer music. That's where John Zorn heard Sparks and offered him the opportunity to record an album of Jewish music. For Sparks, the project was an opportunity to study various types of Jewish music and translate them to the solo guitar.
On Neshamah, Sparks has explored Chassidic, Sephardic, Yemenite, klezmer and Yiddish traditions. The result is brilliant on many levels. Musically, Sparks is one of the better guitarists in the country, a musician's musician even if he remains largely unknown to a large audience. Think of Bill Frisell, Leo Kotke or Adrian Legg and that's the level that Sparks plays on.
Culturally, the album is even more interesting in the way it crosses borders and subverts cultural practices. Certain critics stake out the territory of Jewish music and put a fence around it to keep it as pure as possible. Others, like Zorn and the musicians of the self-described Jewish Alternative Movement are more interested in the mixing of the high and the low, the cultural hybrid and the freedom to cross into the territory of new patterns.
One small example from Neshamah is Sparks' version of "Hamisha Asar". The song is of Bosnian origin, composed by the Sephardic composer Flory Jagoda. After playing the melody in what appears to be waltz time, Sparks changes the meter to explore a 3/2/2 Balkan dance rhythm. Then he constructs a completely new harmonization to the melody with phrases that come out of his Balkan music vocabulary. The song winds up with a restatement of the main melody. In less than five minutes, Sparks has affirmed, shifted, mixed and improvised a musical construct.
Most popular musicians look for a simple progression they can beat into the ground. Tim Sparks looks for all the ways to change minds and habits of musicians and audiences alike. - Aaron Howard