Wadada Leo Smith and Thomas Mapfumo
Dreams and Secrets
Anonym (www.anonymousweb.com)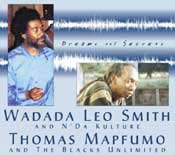 This music seems like a continuation of trumpeter Smith and guitarist Henry Kaiser's exploration of Miles Davis' music of the mid-70s, the Yo Miles! project. The vibe is similar, with long, hypnotic tracks fueled by bass ostinati and funky rhythms, although this time all the compositions are originals by Smith, with some collaborations with Mapfumo. The band is completely different from the earlier CD, although Kaiser is still here, adding a few tasty solos but mostly staying in the background.
The presence of Mapfumo and his musicians, who appear on about half of the tracks, serves to lighten the overall sound with gentle guitar patterns and a trio of mbiras. It also acts as a more explicit reminder of the African textures that were hinted at in some of Davis' work and that were mostly absent from Yo Miles!. (The one song composed by Mapfumo, "Big in America," is lyrically uninteresting, although the music is lovely.) The arrangements are uncluttered and spacious, with enough deft touches from the resources at the musicians' disposal to keep things from becoming monochromatic. This is beautiful and mysterious music that grows on you with repeated listenings. - Joe Grossman
CD available at cdRoots