Simentera
Simentera
Piranha (www.piranha.de)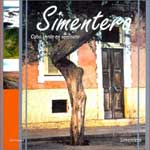 Simentera first came to my attention at WOMEX, the gathering for the world music biz that now takes place in Berlin every year. Amid the swirl of multiple acts on multiple stages, this band from Cape Verde won over the crowd, and they did it simply by being themselves. There were no flourishes of astounding virtuosity (though all the playing was first rate) and there was no single arresting lead singer; all the band members sing, although they do have a female trio up front.
What makes this band so endearing is its blend of solid songwriting, musical competence and sincerity. This third element, sincerity, is possibly the most elusive, yet telling criteria. Rather than abandon their roots (they all live and work at different jobs on Cape Verde), they re-explore and re-define them, coming up with a sound that reflects the love they have for their culture and their hope for its future. This is all captured here.
The songs have a classic sound, as if they have been around for years. Mario Lucio does most of the writing and creates melodies that beckon to be listened to again and again. He is also an excellent arranger for both instruments and vocalists. Three and four part backup harmonies grace most of the songs, with a bit of counterpoint. The music sways with the rhythms of the funaná, coladera, morna, and some rarely heard traditional religious chants. There is a Cape Verdean samba and several other dashes of African, Portuguese and Brazilian influences.
The instrumentation is completely acoustic, with only minimal processing even in the studio. The balance of the spotlight is extremely democratic, until finally in "Lamento de um Emigrante" each singer gets a solo line. It is an interesting opportunity to compare the differing timbres of each singer, and then to see how they add up to a complete band sound. One could analyze each track, but this is really a CD for enjoying. It's an unaffected and direct labor of love--and how many release can we say that about? - Michal Shapiro
Comment on this music or the web site.
Write a Letter to the Editor