Sierra Maestra
Rumbero Soy
Riverboat Records (www.worldmusic.net)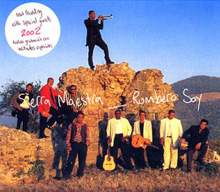 Sierra Maestra recorded their newest album in the Bordeaux region of southern France, an area recognized worldwide for the quality of its wine. One can imagine the band imbibed plenty of the local product during the recording session, as Rumbero Soy has the robust energy and carefree chaos of drunken fervor. Sierra Maestra certainly has much to celebrate, as they tip their glasses to recognize 25 years as one of Cuba's foremost revivalist ensembles. When the group was founded in 1977 by Juan de Marcos, the musical mastermind behind the Buena Vista Social Club, traditional Cuban son was in desperate need of a professional group that not only kept the genre alive, but helped maintain the quality of the original product. The potent son of Sierra Maestra was not a museum piece, but a vibrant, technically masterful, soulful, and innovative new expression founded on the roots of contemporary Cuban dance music.
For most of their career, Sierra Maestra's albums were hard-to-find contraband, and the occasional tracks smuggled out on various compilations wet the appetites of Cuban music fans everywhere. British label World Circuit helped bring the groups impeccable recordings to the international market, and the band was soon regularly touring the world, bringing their soulful, rootsy sound to enthralled audiences everywhere. Sierra Maestra's successful musical formula even survived the departure of two of the group's most important members, Juan de Marcos and trumpeter Jesús Alemañy. The latter is the founder and leader of another popular band rooted in Cuban tradition, Cubanismo.
Many Cuban albums have attempted to emulate the recording technique used for the Buena Vista Social Club sessions, which has the raw, unadulterated feel of a bootleg recording. For fans of high-fidelity, this is an unfortunate development as much of the subtleties of the percussion and horns are lost in the distance. If you like your albums raw and immediate with little fluff or production, then Rumbero Soy is for you.
For Rumbero Soy, the producers intentionally sought to capture the vibrant energy of the band's renowned live performances. At this they have succeeded, for the album blazes at a fairly intense tempo from start to finish, making it nearly impossible to sit still. While this makes for a good party, much of the subtle soul of Sierra Maestra's previous recordings are lost in the rush. The best Cuban son gets its power and groove from a relaxed, restrained tempo that allows for maximum groove. The track "Semilla de Caña Brava," which features a guest appearance by Marc Ribot, has the laid-back swing of classic Cuban son. The rest of the album gallops along like a herd of stampeding thoroughbreds. Rumbero Soy reveals that unlike a fine wine that mellows with age, Sierra Maestra remains as perky and bubbly as a bottle of a recent vintage. - Jacob Edgar
Available at Amazon