Sidestepper
3 AM (In Beats We Trust)
Palm Pictures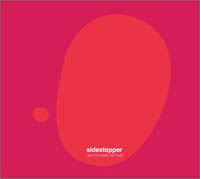 Producer Richard Blair decamped to Bogota in the early nineties, took in the profusion of popular Colombian sounds, mixed it up with acts like Aterciopelados, Ivan Benavides, Carlos Vives and Toto La Momposina, coming back a few years later, as DJ alter ego Sidestepper, to take the London dance scene by storm. 3 AM (In Beats We Trust), Sidestepper's second, commands the talents of a host of stylish Colombian and London artists. The vocal lineup includes Benavides (also heard on guitar), Ronald Infante and Janio Coronado (recorded in Colombia), and onsite in London, singing in Caribbean English, Rubi Dan and Jucxi Dee. The backing ensemble includes paired trumpets, trombone, guitars and skin-tight Latin percussion recorded in Bogota, and (logged in London) violin, viola and cello. Blair co-produced with Benavides, and engineered the final mix, a pan-Latin musical mondongo currently (summer 2003) atop the European world music charts.
Benavides opens with the vocal lead on "Deja," an upbeat, syncopated call to hang loose, let it be, take it as it comes, as an infectious percussive hook and echo-chamber trombone concoct a vaguely menacing counterpoint to the optimistic message. On "No Lloraré," Benavides intones a fond, lighthearted farewell to a departing lover; but the singer's assertion ("I won't cry when you leave") also can be read as a conflicted expression of bravado, a papering over of truer feelings of loss. Benavides backs on guitar on "Me Gustas," a funkadelic come-on wherein a growling Rubi Dan banters rub-a-dub style with a sassy Spanglish female chorus. Rubi also leads on "Más Papaya" (trading English verses with Dee and Coronado's Spanish chorus), pairs with Dee on a soulful "Walking" (with some reverberating horn accents and a distantly thundering lower register), and works out on a jaunty bilingual "In the Beats We Trust."
Taking a more laid-back, romantic turn, singer Ronald Infante injects a bittersweet measure of world weariness on "Dónde Va, Mi Corazón," "Dáme Tu Querer" and "Aunque Me Duela la Vida." Coronado's lilting soprano heads out with a forward-looking "Llegaré," an understated wrap to a work whose cultural hybridity, brassy undertones, Afro-Latin polyrhythms and soulful vocals comprise an illuminating, imaginative shift away from the denatured insipidity of international salsa pop. - Michael Stone
The artist's web site: www.sidestepper.com
CD available at cdroots.com