Sergent Garcia La Semilla Escondida
Shakti/EMI (www.shaktirecords.com)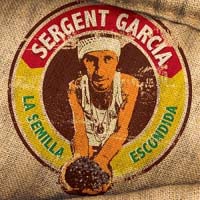 It's important for a musician to make wise choices. Choosing to be influenced by Afro-Cuban rhythms, reggae and ska is indeed wise, but even so, it's what you decide to do with those influences that's most crucial. France's Sergent Garcia has chosen well and made his decisions accordingly. And the resulting music is crucial beyond doubt. Like Manu Chao, Garcia's background is in alternative and punk rock, and like Chao he's realized that an in-your-face spirit can serve you well in deciding to go more global with your sound. Recorded in Jamaica, Cuba and France with a distinguished cast of players, La Semilla Escondida hits the ground with sass and swing, moving from the high-stepping reggae of "Long Time" and "Revolucion" (which cleverly references the Clash's "Revolution Rock") to more stately Latin fare like "El Regreso" and the percolating ska of "Que Corra La Voz." Then there are tracks where the Latin/Jamaican ingredients mix and match so well you wonder why the kinship hasn't been explored more (or at least more visibly) on the world music scene. Listen to how cunningly "Tu No Sabes Na" slides from a heartbeat nyabinghi drum base into a Yoruba-drenched rumba or the ease with which Garcia is able to shift his vocal phrasing from Cuban crooner to Bobo Ashanti Rasta.
With four albums under his belt, Garcia has refined his "salsamuffin" sound to a very sharp and satisfying degree, making La Semilla Escondida a treat to be savored repeatedly. - Tom Orr
Available from cdroots.com