The Sevens
Celtic Groove Brand
NewGrange (via www.efolkmusic.com)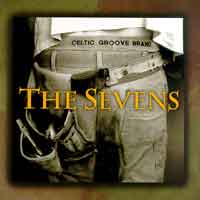 The Sevens are multi-instrumentalist Mark Roberts, once a mainstay of the late Touchstone; Sarah Blair (fiddle) and Liza Constable of Chanterelle on vocals and guitar; percussionist Mark Hellenberg, who has made a name for himself with his work with the House Band and Malcolm Dalglish; and bassist Stuart Kenney, a member of Wild Asparagus.

While their music is mainly Irish or American in origin, the sound the Sevens create is an unexpected mix of styles, full of ideas but without a trace of clutter. Opening with the dark sound of banjo and bass, Constable's bluesy voice takes the lead on an old timey song, then suddenly sheers off into something reminiscent of a Donegal reel. This is followed by a bright and breezy set of reels, Irish in melody but at times Caribbean in feel.

They continue with a minimalist, percussive approach to polkas touched by stripped-down reggae; a fiddle, flute and bodhran playing a jig that slowly builds into an old timey style reel with fiddle, banjo and percussion and then plunges into a calypso style Appalachian ballad.

It's not enough to play tunes from one genre in a different style. There has to be a deeper understanding of the style, the ornamentation and techniques involved, in order to bring it to life naturally. That is where the Sevens score well. Blair is a strong fiddler and Roberts a cultured flutist. They have a powerful sense of Irishness in their playing, yet she is able to switch to old timey with the addition of a slide here and a double stop there, and he changes to banjo thereby altering the entire mood - light turns to dark, skip turns to roll and the transition within a set of tunes is effective and complete.
"Valley Girl" is a polska, a Swedish tune in 3/4 time that sadly leaves me cold. The melody is too technical, the harmony a little disturbing, and the accompaniment grating. Cole Porter's wonderful "Miss Otis Regrets" works surprisingly well, with banjo and harmonica providing the main backing for Constable's enticing voice.
Hellenberg and Kenney's playing provides exactly the right color and texture for the songs and tunes. Never intruding, Kenney's presence is more felt than heard. But whether bowed or plucked, he adds a tremendous depth to the overall sound. The whole band gels neatly in a wonderful marriage of styles, a hybrid both welcome and worthy. - Jamie O'Brien
Audio: "I Truly Understand" trad, arr. The Sevens
© 1999 NewGrange, used by permission