The Savoy-Doucet Cajun Band
Sam's Big Rooster
Arhoolie (www.arhoolie.com)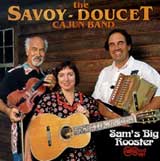 Savoy-Doucet, a band now 23 years young, is truly an American treasure. Some years back, I saw this band perform indoors on a rainy Rhode Island afternoon. Mike Doucet was there with his "big-time" project, Beausoleil, which at that time was at its most far-reaching phase of experimentation: electric guitar, calypso-reggae-bayou blends, the whole nine eclectic yards. (Beausoleil itself has gotten far more traditional since.) But for this set, Mike was a member of the Savoy band, subject to the discipline cheerfully imposed by leader Mark Savoy. Mike was to sit down in a chair while playing, old-time Cajun style.
About half way through the set, Mike Doucet's fiddle seemed to bob up and down like a divining rod, his head began to wobble and his feet started tapping furiously. Marc Savoy, never cracking a smile, and plugging along on accordion, exchanged puzzled glances with guitarist Ann Savoy. It looked like something was about to bust loose from Doucet, Aliens-style! Leaping up and kicking back the chair, Mike shouted, "I just can't keep that rock 'n' roll fiend down!" Or words to that effect, en francais. The Savoys did not laugh openly, but they kept right on playing, with a wildman on fiddle shuffling in their midst.
It is a joy to see Mike Doucet smiling out from the cover of this CD, decked out in colorful Beausoleil finery and framed by the happy faces of Ann Savoy and Marc, with Marc in workclothes, proudly holding up a prize chicken for us to admire. This CD embodies a resolution of tradition and sophistication. Among Cajun bands, perhaps only Savoy-Doucet and the latter-day Beausoleil really pull off this magic trick. Joined by young Joel Savoy on bass and fiddle and the raucous Minneapolis Bonetones band on two live cuts, the Savoy-Doucet Band takes us through gentle waltzes ("La Bonne Vie"), tear-inducing songs sung by Ann ("Un Tramp Sur La Rue", "Party Girl's Blues") and wild Cajun-grass raveups, summed up in Marc Savoy's deep-voiced encouragement to his colleagues: "Git it, Doucet! Get on it, git down under it, git all around it! Woooooo!" - Bill Nevins
Comment on this music or the web site.
Write a Letter to the Editor