Mongo Santamaria
Greatest Hits
Mongo Santamaria
Afro American Latin
both titles Columbia/Legacy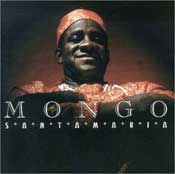 Mongo Santamaria needs no introduction to Afro-Latin jazz and Cuban music fans. From the prodigious 1964-1969 period, Greatest Hits offers a torrid selection of previously released tracks in the clave-rich jazz-funk-boogaloo vein that Mongo helped pioneer. Columbia's orientation was decidedly commercial. A crossover-oriented revue of the breaking hits of urban African American radio, it includes such chestnuts as Herbie Hancock's "Watermelon Man," The Temptations' "Cloud Nine," Otis Redding's "Sitting on the Dock of the Bay," James Brown's "Cold Sweat," Booker T's "Green Onions," Ritchie Valens' "La Bamba," and a live version of Mongo's own smash "Afro Blue." Regular collaborators during that era included timbalero Steve Berrios, percussionist Julito Collazo, alto saxophonist Sonny Fortune, reed and woodwind aces Hubert Laws and Mauricio Smith, and trumpeter-arranger Marty Sheller. This is not Mongo's regular beat, as it were, but he and the stellar cast make the music their own.
Recorded in 1968-1969, Afro American Latin reunites period collaborators Berrios, Collazo, Fortune and Laws, among other notables, with the signal Sheller sound. Never released (amazing as it seems today, given the utterly contemporary freshness of its sound), the album unveils the laid-back genius of one of the guiding lights of Afro-Latin jazz. It opens with a ten-minute eponymous praise song to Obatala, the Santerķa deity, with an accelerating percussive and saxophonic figure that lifts the album to cruising altitude. (Indeed, the sax work of Fortune, Laws, Charles Owens and Mario Rivera is superb throughout.) "Mi Reina Guajira" anticipates the classic sounds of Santana and War, with its rhythmic sway, suave vocal chorus, tight horn section, and drop-dead piano montuno.

Other highlights include singer Ronnie Marks' fine genre-bending guest appearance on "Me and You Baby (Picao y Tostao)," the only track previously released (on All Strung Out, 1970). Its tumbao figure echoes "Mazacote," Mongo's mesmerizing live jam with Cal Tjader, among many others (on Mongo, a 1959 Fantasy release reissued as Afro Roots). An equally funky vein runs through in "Boogaloo Wow" and "Mama Papa Tu," while "Naked if You Want To" and the driving title cut explore the Afro-Cuban roots of Mongo's divine inspiration.
The final five tracks were logged live in Philadelphia at Pep's Lounge in late 1968, a warm-up for the studio versions they echo. The most striking of these is "Philadelphia," wherein Sonny Fortune's alto sax carries matters to higher ground. Thirty years after the fact, and better late than never, Afro American Latin reveals a vital chapter of the Santamaria opus, one whose energy and sweeping musical sensibilities resonate still. - Michael Stone
Comment on this music or the web site.
Write a Letter to the Editor