Sue Steward
Salsa: Musical Heartbeat Of Latin America
London: Thames & Hudson Ltd. ISBN 0-500-28153-X (Paperback, 1999)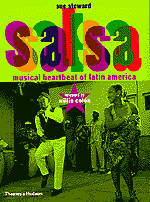 What is salsa? This comprehensive, eminently readable, lavishly illustrated revue offers a broad view of the diverse Afro-Caribbean dance music traditions loosely called salsa. Steward promises to indulge your curiosity about salsa's Pan American and transatlantic purveyors, and the myriad dances claiming the name, all derived from the Afro-Cuban rumba and son. Scholars have trod this ground before, of course, as in the groundbreaking work of John Storm Roberts (Black Music of Two Worlds and The Latin Tinge), Vernon Boggs (Salsiology) and Peter Manuel (Caribbean Currents: Caribbean Music from Rumba to Reggae). But leave theory and history to the academics: Steward seeks to provide a properly curious cosmopolitan audience with an accessible primer that locates salsa in everyday practice, where dancing feet meet the beat.
In his foreword, salsero Willie Colón suggests that salsa is about cultural identity: It "is a cultural place where [Latinos] can belong, a socio-political movement, a platform to tell our stories and communicate across the broad expanses that we inhabit. It is a chronicle and a testimony that we were here on this planet..." But simultaneously, "Salsa is a social, musical, cultural hybrid force that has embraced jazz, folklore, pop and everything else that is relevant or could stand in its evolutionary path." Indeed, as Colón observes, salsa is now a universal form of popular expression, and there are salsa groups and fans worldwide. An obvious question arises: In culturally omnivorous times like these, who owns culture, especially such unabashedly hybrid forms as salsa? Is there any way to resolve the tension between the relative cultural specificity of salsa's origins and the global, multicultural embrace it now enjoys? These are questions without easy answers, but as the music loses its exotic character through broad exposure, as people the world round embrace it as somehow their own, questions of authenticity and identity give way to more elusive matters of popular taste and the vagaries of global market forces.
Steward discusses the underlying role of clave, the music's rhythmic anchor, followed by a rundown of the instruments and dance steps, and most critically, an extended exploration of salsa's Cuban roots, specifically the Afro-Cuban influences expressed through the sacred music traditions brought from West Africa. Then she surveys the musical impact of the Cuban and Puerto Rican convergence (from the 1930s) in what would become Spanish Harlem, and salsa's emergence as a commercialized genre in 1970s New York, primarily through the marketing genius of Fania Records. The author then returns to the Caribbean and examines the styles specific to Puerto Rico, the Dominican Republic, Colombia, revolutionary Cuba, and of course, Miami's post-1959 "Little Havana." As the book is pitched to a UK audience, an examination of the history of Latin music in London also will be of interest. Steward wraps her account with a brief look at Cuban music's influence on contemporary West African music, and an assay of Afro-Cuban and Latin jazz, the crossover effect arising from the sustained exchange between Latin musicians and such jazz greats as Duke Ellington, Cab Calloway, Dizzy Gillespie, Stan Kenton, Art Blakey and Charles Mingus, among others.
It was no doubt a conscious decision intended to rein in a project whose natural tendency is a sprawling embrace of every possible Latin music genre, but from a North American perspective, Texas-Mexican accordion-based conjunto and Chicano rock cannot be overlooked in terms of their enduring role in raising U.S. public awareness of the vitality of Latin music (interested readers can begin with Steven Loza's Barrio Rhythm: Mexican American Music in Los Angeles). But quibbling aside, Steward's global perspective on the evolutionary character of cultural process is on the mark.
She ends by reflecting on the significance of the extraordinary mass response to the Buena Vista Social Club phenomenon, and the more generalized interest it reflects in Cuban and related music. Locally identified music of every kind confronts the atomizing tendencies of global capitalist consumerism, and in this respect, what we call salsa is no different. But the very nature of cultural creativity virtually assures that as quickly as some given form of roots music succumbs to the compromises of generic market imperatives, in dialectical fashion, new and equally vital creations will emerge. Sun-Ra (a cosmic musical hybrid if ever there was one) put it this way: "Since everything that's possible has been tried, we need to try the impossible." Or as Ignacio Piñeiro expressed it so many years ago, "¡Échale salsita!" - Michael Stone
Also by Sue Steward:
Musica : The Rhythm of Latin America : Salsa, Rumba, Merengue, and More