Various Artists
Russian Gypsy Soul
Network (www.networkmedien.de)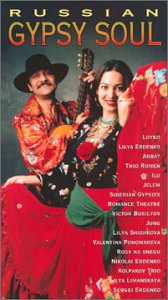 There's nothing better to cut the schmaltz than a hefty dose of vodka, so break out the bottle and get prepared for some heart-clogging music from this two CD set of Russian Gypsy music from Network Medien.
According to the liner notes, the Roma (Gypsies) were not persecuted in Russia, as they were in other lands. Instead, they became cultural icons, using their musical skills to infiltrate and win the Russian heart.
Perhaps patronage is what led the music into what is on these CDs. In whatever land, whatever the times and the audiences have called for, Rom musicians have provided. In Russia, Gypsy orchestras were maintained by the royalty. So if the local count or countess felt like "getting down," they could just call in the Gypsies to play. It's easy to imagine the gentry daubing the tears from their eyes while listening to one of the songs presented here. They certainly would not have been interested in the rougher kinds of folk music, preferring instead to hear the sweeter popular tunes of the day, with a heavy mix of classical influence. In later days, the Soviet-run music troupes promoted a generic form of Russian folk culture, and much of the music in this set bears both these stamps.
The range of interpretation is quite varied, with Loyko and the Erdenko family in general holding down the lion's share of the tracks, presenting florid and slick arrangements. The Siberian Gypsies present the other side of the spectrum, with the most full-throttle, breast-beating, free-form vocalizations.
In between are several strong voices and players, but in many cases they are put to the service of music that ultimately has showmanship where its soul should be. Interpretation calls for more than velocity or volume, and several tracks although faultlessly rendered slip from catharsis into cliché.
The one song that emerges as enduringly lovely is "Molyarkitsa." As if to demonstrate its pre-eminent position in the Gypsy repertoire, there are three different renditions of it, the most addictive, to this reviewer's ears, is Lilya Erdenko's (titled "Solnyshko" in this set). - Michal Shapiro