Tom Russell
Borderland
Hightone Records (www.hightone.com)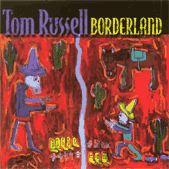 "This ain't no technicolor romance, it's film noir." So Tom Russell sums up both Orson Welles' classic movie, Touch of Evil and Russell's own Borderland, one relocated gringo's dream/nightmare of life on the rough partition line between the US and Mexico, or on the lines between fantasy and reality, love and sorrow. "Everything's gone straight to hell, since Sinatra played Juarez," croons one of Russell's sad/badguy personas in a catchy chorus of norteno accordion swirl that suggests visions of Flaco Jimenez playing along to Elvis records in a San Antone basement.
Russell's deep baritone and not-quite-tongue-in-cheek tough-ass pose give this former New York cabdriver's sketches of a mad Tex-Mex underworld both credibility and humor. Irony and tequila drench ballads like "Hills of Old Juarez," Russell's deft portrait of a wounded Anglo drug-runner ratted-out by his "Tiwa kid" partner and tumbling down the Rio Bravo riverbank through cactus, rocks and bullets. The song is a sly comment on the romantic narco-corridas or 'gangsta polkas,' about bold narcotrafficantes, that have been hits for Mexican bands like El Tigres del Norte for two decades. Russell's clumsy would-be Yanqui outlaw has the motivation and the coke, but he just can't quite get the guerrilla-bandido style and winds up pining away for his "dark-eyed girl" in a north-of-the-border jail cell.
There's a very serious edge, though, to these songs, especially ones like "California Snow," (co-written with Dave Alvin), in which a working-stiff American border cop finds a refugee from poverty carrying his dead wife's body through a freezing mountain night. Russell's narrator sadly ships the widowed man back to Mexico and struggles to make sense of his own dead-end life. The song's message is clear things are just not right in the supposed land of dreams, El Norte.
Another fine song, "What Work Is," links urban riots with memories of failed love and ties all that into Russell's gritty theme of what it really means to labor for truth and feeling, and how hard that job can be. Russell's heart-break sentimentality never quite goes over the edge, though you can see him tottering in his cowboy boots in "Down the Rio Grande" as he narrates a tale of a desperate guy in a pickup searching every town along the river's path for his long-gone love, who just may be down in Brownsville, breathing "that salty Gulf Coast air."
Borderland features a tight electric backup band that matches the edgy tone of Russell's lyrics. With smart references to Pancho Villa, sympathetic Juarez barkeeps, and Marlene Dietrich, this is one charming, very listenable cd, a trip into a land of both beauty and horror that Tom Russell has managed to turn into a wondrous place to visit. - Bill Nevins