Ringo
Buyisa
EMI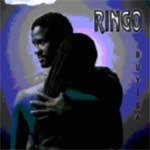 Considering his previous appearances alongside an array of household names, including Eric Clapton, Hugh Masekela and Simply Red, and his 1999 Kora Award for best Southern African artist, Ringo Madlingozi remains relatively unknown outside Southern Africa. "Buyisa" (Come back) is the fifth outing for the Cape Town-born singer, the follow up to "Vukani" (Wake Up), "Sondelani" (Come Closer), "Mamelani" (Listen), and "Into Yam'" (My Special Thing), an eight-track release from 1999.
Ringo, regarded as one of the strongest new voices of South Africa, has an emphatic and frequently philosophical message throughout the album. A self-confessed romantic, half of the tracks are about love, and the desperate need for monogamy in modern-day, AIDS-stricken South Africa. Others address the importance of consolidating the old traditions with contemporary life, respect, unity and Pan-Africanism. The music itself is a perfect example of the blend of the old and the new, true to Ringo's assertion that he wants his music to be accessible to everyone. It is notably diverse in its instrumentation and range of rhythms, and exciting in its vocal exploration ("Wesibali" is probably the best example of this). There are traditional Xhosa elements, township beats, some straight kwaito, and plenty of rich, unmistakably South African harmonies.
This is very much a melody-based sound, and the melodies certainly are infectious and irresistibly beautiful, especially on the track "Into Yam," which features Zimbabwe's Oliver Mutukdzi. Ringo is at his best here, his clear, sweet tenor voice in stark contrast to Tuku's gentle resonance. His vocal dexterity and ability to portray pure emotion are striking. Apparently, this is the first collaboration between a Shona and a Nguni singer. The album is worth investigating for this song alone.
For the uninitiated, it might take a few attempts before getting the groove of Buyisa. For anyone who loves vocally-driven, well-harmonised music, this album is guaranteed to have you singing along. - Jennifer Byrne