Steve Riley and the Mamou Playboys
Happytown
Rounder (www.rounder.com)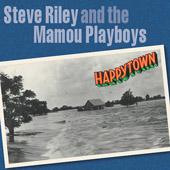 Once a traditional band playing traditional music, Steve Riley and the Mamou Playboys have evolved into a progressive band playing traditional music. While 1995's La Toussaint hinted there were artistic shifts underway, it wasn't until 1998's adventuresome Bayou Ruler that revealed that they were blazing a new trail altogether. Their latest, the 21st century Happytown, shows the Playboys defining modern Cajun music on their own terms. It also marks the healing from the loss of Playboys' guitarist Jimmy Domengeaux, who tragically died two years ago. Happytown expresses those cathartic, pent-up emotions in new ways.
Amazingly, the opening pair of songs, Aldus Roger's "Creole Stomp [Happytown]" and Leroy Broussard's "Big Boy Waltz," are not only trad but are so authentically vintage that they could have been waxed decades ago by any of Southwest Louisiana's esteemed recordmen like Carol Rachou, Floyd Soileau or Lee Lavergne. The David Greely-Steve Riley twin fiddle ride on "Creole Stomp" is spectacular and incidentally, their beats-per-minute pace unintentionally matches those of the Roger original.
From the far right, the Playboys veer to the far left with several art-Cajun compositions that bear historical significance. With its clashing, thunderous guitars, methodical tempo and pristine, delicate twin fiddles, "Gros Jean" interestingly come from a 19th century Creole French poem written by a slave known as Pierre. Greely's "Les Vigilantes" takes its inspiration from the late 1800's vigilantes who became too empowered for their own good. The arrangement's atmospheric textures compliment the darkish theme as mystical slide guitar tones, fiddle and squealing accordion spatterings drift in and out of consciousness. Intriguing compositions to say the least, they are the Playboys' vision of how Cajun music may have evolved if the language had never been shelled by the near death blows of Americanization.
While there is always a look forward, there is usually a glance back, oftentimes further inwards than the opening numbers. The snappin' Creole string band-like "Patoutville" is interpreted as if they had been among those musical pioneers recording for Alan Lomax in 1934. "Seems to Me," a modernistic groove-bound tune with drum loops offers an interesting contrast between lead vocals distorted through a Leslie speaker and crystal clear harmony voices, then closes with a snippet of a Lomax-recorded Creole juré that's a near fit melodically.
About the time you are accustomed to this throttling back-and-forth time warp, along comes the uplifting "Starvation 2-Step" that nearly brings about tears of joy. Kyle Hebert tosses in "Poché Bridge," a gorgeous fiddle tune that fits the paradigm; the bilingual "Heat Lightning" features the accordion and sax playing together in unison for a boppin' low rider feel as if Cajuns had somehow settled East Los Angeles. With the aforementioned Bayou Ruler and last year's already legendary Lil Band o Gold projects under his belt, CC Adcock is becoming known as one creative producer. A brilliantly hip record, this is one to be lived with. - Dan Willging
Comment on this music or the web site.
Write a Letter to the Editor