Ernest Ranglin
Modern Answers To Old Problems
Telarc (www.telarc.com)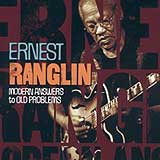 Jamaican guitarist Ernest Ranglin began recording as a bandleader in 1958. His early recordings were heavily influenced by American R&B. He began combining the music with a prominent syncopated jump beat. that became the starting point for what is now known as ska.
Ranglin toured and recorded with many important musicians in Jamaica including Bob Marley, the Skatalites, Jamaican jazz musician Monty Alexander, and Jimmy Cliff. A 1976 tour with Cliff first exposed Ranglin to the music of various African cultures. Ranglin has enjoyed a long career as a studio guitarist who is comfortable playing jazz, reggae, R&B, work songs, calypso or ska. His 1996 recording Below The Bassline combined jazz leads with traditional reggae and gained Ranglin worldwide attention. The follow-up, In Search Of The Lost Riddim, recorded with Baaba Maal, combined the polyrhythms of African instruments with Ranglin's nimble fretwork.
The Afro-Jamaican combination continues on this new release. The percussion section is anchored by Tony Allen, the lead percussionist and bandleader with Fela Kuti's Africa 70/Egypt 80 bands. Sparks really fly on two cuts, "Many Roots" and "Memories of Senegal." The remainder of the album is straight-ahead jazz. Two outstanding tracks, "Kunene" and "What A Day," feature vocals by Sylvia Tella. The tracks are all at least five minutes long allowing Ranglin to stretch out a bit, but the percussion section does not get the opportunity to have much interaction. This album will strongly appeal to jazz fans, particularly those who enjoy strong drumming. World music fans will appreciate the few Afrobeat tracks. As per usual on Telarc recordings, the sound quality is first class. - Aaron Howard
Comment on this music or the web site.
Write a Letter to the Editor