PressGang
Dancing in our Dreams
Voxpop (www.voxpop.demon.co.uk)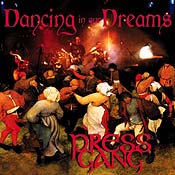 Cheerful harmonies, dulcimer, double-bass and danceable praise of the egalitarian Chartist faith of the English working class; this is music for a grand fair on the village green, or a rowdy trashing of any city's grim marketplace!

PressGang is a musical challenge to folk piety and social complacency alike. Like Steeleye Span long before them, or their contemporaries Chumbawamba, the sprightly Brit rebels of PressGang offer up a revolution you can jig to.

On this, their fifth CD, PressGang is made up of Damian Clarke, (vocals, guitars), Miranda Sykes, (vocals, bass), George Whitfield, (vocals, accordion, whistles), and Maclaine Colston, (vocals, hammered dulcimer, percussion). They revive sounds from a century or two ago in a spritely way that is very appealing. And tucked neatly into the songs are jabs at elitism, poverty and those who would discourage the hopes of the poor.

PressGang may, by recent accounts, be struggling financially to keep their collective musical project afloat, a daunting task in an age of bland corporate music biz control. But, their voices on this CD are nonetheless encouraging:
"Face the music, turn your cheek,
don't use the brake, don't let off steam,
Sure we'll crash, we always do,
but when it comes to me and you
Everybody tells you that it's so,
but they don't know the secret in our eyes.
When I'm dancing in the dark
I can see more clearly to your heart."
Reckless rogues they are, indeed, and more power to the lot of them! This is a record which will brighten a winter's day, and welcome in the spring, anytime of year. - Bill Nevins
Audio:
"Dancing in Our Dreams" (Pressgang)
"Three Brothers of Spain" (trad)
©2000 Vox Pop, used by permission
Comment on this music or the web site.
Write a Letter to the Editor