Musiko Polytropo
The Cycle Of Life
L'Empreinte Digitale / France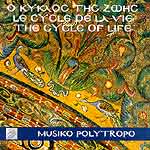 Musiko Polytropo is a mixed choir of music students from Aristotle University directed by Iannis Kaimakis. On this collection of folk music from Greece and Macedonia, they perform lullabies, children's songs, love songs, wedding songs, and laments. Starkly augmented by ney or other wind instruments, the songs are usually performed in the style known as isocrates where the lead voices are accompanied by a background drone consisting of vocalists using one or two notes. The style is ancient, its roots in Byzantine church music.

The recording is excellent, allowing us to hear the overtones around each note. Like most of the Middle Eastern ancient music, meters are determined by the accentuation of words. Where there are clear rhythms, they are the 5/4, 7/8 and 9/8 rhythms that are typical of the running step/hop Balkan dance music. The excellent liner notes (in Greek, French and English) provide background and translation of the songs. In live performance, "The Cycle of Life" is done as a whole show including movement and dance. Greece is a country whose folk music is largely unknown outside of a few academic specialists, so album is important for its role in illuminating its rich folk heritage. -Aaron Howard

Audio: "Three Creten Monks" © 1999 L'Empreinte Digitale (ed@gulliver.fr); used by permission.