Pina
Quick Look
RealWorld 2002 (www.realworldusa.com)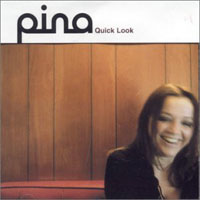 The RealWorld label has pioneered recognition of the immense sweep of the "world music" category, especially its extension to familiar, popular forms such as British techno and American blues. This inclusiveness succeeds strangely with this debut recording by Ireland-based Austrian singer Pina Kollars. "Quick Look" is strongly reminiscent of the sound of American singer Melanie, from the deceptive na´vetÚ of Pina's rough, expressive voice, through the high drama of her simple melodies, to the inventiveness of the electro-acoustic instrumental backing, with its emphasis on percussive guitar effects. Unfortunately, Pina's vocal style renders her English lyrics at best marginally comprehensible. Their absence from the liner notes is keenly felt, lending the recording an unsettling touch, like dream singing in a language quite foreign but packed with false cognates. This makes "Quick Look" a hard recording to evaluate, if not to enjoy; it has lyrics but, even when decipherable, they simultaneously resist and suggest meaning.
Pina arrives with an almost military drum fade-in on "I Loved the Way," vocal dredged from deep in her chest, childish slurring echoed by background fuzz guitar and supported by trebly electric 12-string flat picking. "On a Day Like Today" builds a slow, ominous atmosphere amplified by quiet mellotron, vocal delivered with passion and peculiar timing, wailing chorus echoing the disorientation of frequent lyrical shifts between first and third persons. On "The Flight," a deliberate beat, a dense thicket of picked and hammered guitars, and haunting mellotron and harmonium drone surround the vocal, keening harmonies on the chorus chilling, the whole framed by thunder. On "Cold Storm," a shuffling rhythm underlies a melody complex with verse, chorus, and refrain, Pina's odd but effective delivery slicing through waves of vocal harmonies.
"Josephine" is a slow, ominous waltz, introduced by deep cello and piano, suggesting a morbid traditional such as "Barbry Ellen," though the lyrics are characteristically elusive. "Bring Me a Biscuit" begins with a nearly a cappella verse, its dramatic sad chorus a wrenching requiem for some lost dream of happiness, its contemplative verses questioning the value of such melancholy experience, the best realized lyric on the album. A rolling, almost bluesy beat and some of Pina's most weirdly expressive singing are nicely complemented by mandolin and recorder on "The Lady," the lyrics nearly making sense, a teasing, beckoning effect. "The Tower" is a harrowing wail of betrayal and self-abuse, weak on details, strong on emotion.
I feel powerfully drawn to the dramatic sound of Quick Look, although I cannot shake the suspicion that the lyrics make little sense. - Jim Foley
Available at cdroots.com