Petri Hakala & Markku Lepistö
Pelimannien Jäljillä
Fg-Naxos, Finland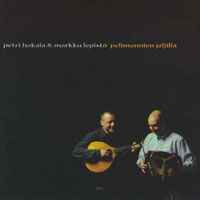 My first impression of this collaboration between Finnish musicians Petri Hakala (mandolins and fiddle) and Markku Lepistö (accordions) was: how pretty, how quaint, how classical. Soon, however, I came to appreciate the orchestral complexity of these tracks, and marveled that it issued from a mere two players. Leads are more often taken by Lepistö's lilting accordion, but his other hand is often busily contributing drones, chords, and bass runs, frequently simultaneously. Hakala's role is more subtle, doubling the accordion melody, weaving counterpoint around it, laying a foundation of active and complex chording and percussion, but never flinching from pursuing melody. The melodic milieu oscillates between Nordic and Celtic, the classical sensibility arising from the duo's continual resort to dynamics, both in meter and amplitude.

On the light, quick opening track, "Taklax," a delicately buoyant accordion takes the melody, the ubiquitous mandolin providing harmonies, counterpoints, chording, and percussion. Solo accordion with Parisian café allusions starts the gently swaying waltz "Tähtipyörä." It is soon joined by mandolin, which switches onto the lead melody for a few bars before both instruments embark on a lively fugue. Mandolin parallels accordion on the opening measures of the exuberant waltz "Aarnio," one of the most emotionally satisfying tracks, with Hakala's fiddle emerging later to scratchily support the melody. The mandolin, moody and deliberate, emotes the opening bars of "Mäkeläänen ja Tallari," a restrained and lovely performance; the accordion adds a dramatic, monotonic drone before taking the lead on a slightly more lively melody. In "Botnia," a quick, rather Celtic-sounding Lepistö composition, fiddle and accordion swirl dizzily around a long, complex melody, the fiddle adding nice harmonic twists near the end. The record ends with the Hakala composition "Korpisselkä." A deft, narrative mandolin introduces it, a melodic lead switches almost imperceptibly back and forth between the instruments, and unexpected chord changes add kick to this contented march.

The instrumental mastery and dynamic variation of Pelimannien Jäljillä may at times seem rarified, but the playfulness and infectious melodies keep it earthy as well, to be enjoyed on many levels. - Jim Foley Available at cdRoots