Yann-Fanch Perroches and Fanch Landreau
Daou-ha-daou
Keltia Musique, France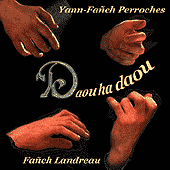 "An accordion. A violin. A microphone. No tricks. We play, that's all." Such is the declaration made by Perroches and Landreau on the cover of their new CD. Daou-ha-daou provides a lesson in the texture that can be created by two musicians without the benefit of overdubbing or an arm's length of guest players. Veterans of the leading Breton band Skolvan, these two share a rare understanding and sympathy, and succeed in weaving many a pretty web around the template of traditional and original melodies from their region. First a tune is established, by one instrument or sometimes both (the unison playing is telepathically tight), then the accordion basses begin to syncopate and extend the chordal background into jazzy territory. The fiddle soars and dips around the basic melody, delighting with its delicate improvisations. The comparison with England's Chris Wood and Andy Cutting is an obvious one, but there are other points of reference such as the Arctic soundscapes of Finland's queen of squeeze Maria Kalaniemi, whose influence is heard in the dissonant chords filtering into the "Suite Gavotte," as well as in Yann-Fanch's tribute "Maria," an air with a powerful sense of open space.

Generally the mood of this entirely instrumental CD is one of reflection and melancholy, with minor keys and broken rhythms predominant, although "Les Rats d'Eau de St. Malo" works up quite a head of steam with some Quebec-style foot percussion. The beautifully crafted music deserves repeated listening by anyone who appreciates fine playing, but it can also serve well as an atmospheric backdrop. With Daou-ha-daou, Perroches and Landreau offer another great example of the current strength of European traditional music. - Brian Peters

Audio: "Les Rats d'Eau de St. Malo" ©2000 Y-F Perroches and F Landreau, used by permission Yann-Fanch Perroches was also a featured artist in last summer's Free Reed Festival.
Read an interview and hear some more music.
---