Piccola Bottega Baltazar
Poco tempo, troppa fame: Omaggio a Fabrizio de André

Piccola Bottega Baltazar
Canzoni in forma di fiore
Both titles Azzurra Music (www.picollabottegabaltazar.it)
Piccola Bottega Baltazar are a band from Veneto that are a pleasure to listen to, with a sense of suave musicality, hints of tango, chanson and jazz, and lyrics that are idiosyncratic, playful, and at times incisive. For their first album the band offer an homage to Fabrizio de André by covering some of his songs as well as some of their own compositions in his honor. Their songs and their cover versions melt together seamlessly and the result is low-key but engaging.
The process of covering a song can be fascinating. What is it that drives someone to subject his own creativity to someone else's primary idea? Is it a lack of originality? A love for someone else's oeuvre so close to their own ideal? The challenge of working within constraints that strangely leave you freer to persue your own originality? A form of flattery? It may be any and all of those reasons but I believe Piccola Bottega Baltazar achieve a result that retains a lot of the structure and power of de André's work and yet retains their own unique sound.

This recording will be a welcome addition to fans of Fabrizio de André's music but also forms an integral part of the Baltazar work as it is manifested in their next album, Canzoni in Forma di Fiore (Songs in the Form of a Flower). Here the band has written lyrics of such musicality that even reading them in the booklet leaves you singing. They have given expression to a sense of suave sophistication that we consider to be part of our common European heritage. Seeking clues to explain this achievement, I had a look at the band members' CVs: accordion player Marco Toffannin is a DPhil and leader of a klezmer band; Giorgio (Gomez) Gobbo plays the guitar and sings and is an educator by profession and history buff by persuasion; Sergio Marchesini is the pianist and accordionist with a pedigree in classical studies. At a later stage Antonio De Zanche, aka "the Mayor," joined the group, following stints as a jazz double bass player. Massimo Aiello completed this group of honorable friends as the percussionist for the band. The photograph gives an idea of their sophistication and what all that education is capable of producing: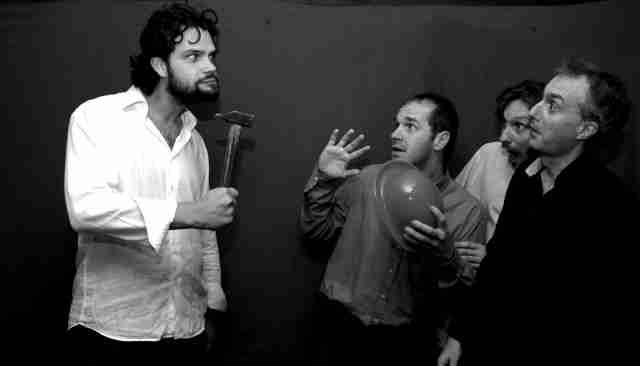 The lyrics are full of stories and it's a pity that translations are not included for the international audience this music deserves. The tales they recount are surreal, sweet, urbane or pastoral depending on the setting, such as the award-winning "Pic-nic al cavalcavia," (which won them an award in a Monferrautore competition for best lyrics about human-environmental interaction). Before you know it, about forty minutes have effortlessly passed, the peaceful feeling occasionally disrupted by a dark lyric, or the slightly unsettling photographs in the booklet... someone's daughters dressing up or something more sinister?
Piccola Bottega Baltazar have created a record that works perfectly. It is a jazz-tinted, cigar-smoked, smart, winking work, a record that I revisit with pleasure every once in a while when I feel the need for life's little pleasures (or cruelties) filtered through somebody's Philosophy degree but also human sensitivity. - Nondas Kitsos
CDs available from cdRoots