Rosa Passos
Amorosa
Sony Classical ASK 92068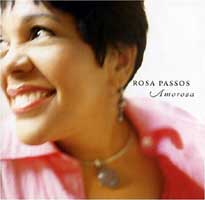 As with most things, music doesn't always evolve in a progressive or linear direction. Occasionally, artists, fans, or segments of the industry itself, rediscover older, nearly forgotten styles that have long been nearly dormant, or that are considered passť. Bossa nova came and went fairly quickly, reaching its commercial apex when it unexpectedly turned into an international musical phenomenon in the early Sixties. In Brazil the style waned in popularity due partly to image and politics while in the United States the genre was starting to be adulterated for commercial gains when the British Beat invasion and other trends cut off its air supply.
Forty years after the music's heyday the samba/bossa nova legacy and off-shoots are kept alive through such fusion artists as Rita Ribeiro and Da Lata, and through the original pioneers' progeny such as Bebel Gilberto, the Quarteto Jobim-Morelenbaum, and Moreno Veloso. Very few artists, however, have remained as steadfastly devoted to the music's original lounge style as Rosa Passos, her timeless approach preserving the tradition while expanding on it. Inspired by Jo"o Gilberto and Antonio Carlos Jobim, Passos started making a name for herself in the early Seventies. Several decades later she seems to be Brazil's best-kept secret.
After putting out her first album in 1979, Passos devoted herself to family matters for a few years but returned to the studio in 1985 and a string of acclaimed albums followed. In more recent years she made a cameo appearance on a Kenny Rankin album and put out a collaborative effort with bassist Ron Carter on Chesky. More recently, the singer appeared on Yo-Yo Ma's double-Grammy-winning Obrigado Brazil album and its live sequel recording. North Americans also gained access to an excellent Best of compilation on the Velas label. Amoroso, Passos's Sony Classical debut and her tribute to Joao Gilberto's 1977 landmark album of the same name, is a nod to her roots and inspiration.
Passos, who accompanies her singing with her delicate, pulsing guitar playing, has come up with luminous new versions of several bossa nova classics from Gilberto's Amoroso album, the most famous being Jobim's "Wave." Other Jobim compositions on the album are "Voce Vai Ver" (the opening track), "Retrato Em Branco E Preto," and "Chega De Saudade," the latter a bonus track featuring just the singer and cellist Yo-Yo Ma. Passos also sings other well-known songs, some associated with Gilberto ("O Pato," "Lobo Bobo"), which she also succeeds in making sound fresh again.
The singer's only original composition on the album is a tribute to Gilberto called "Essa E Pr'o Joao." Her band, which plays with great finesse, consists of jazz clarinetist Paquito D'Rivera and percussionist Cyro Baptista (both of whom first collaborated with Passos on Yo-Yo Ma's project), and pianist Helio Alves and drummer Paulo Braga (both long-term alumni of Jobim). The band is rounded out by bassist Paulo Paulelli, who also provides percussive mouth sounds on "Pra Que Discutir Com Madame," and saxophonist Rodrigo Ursaia, the latter's playing often evoking the spirit of Stan Getz.
French octogenarian crooner Henri Salvador, who released a wonderful Brazilian-type album called Room With a View a couple of years ago, is guest vocalist on a Portuguese/French rendition of the Charles Trenet classic "Que reste-t-il de nos amours?" The song, known in English as "I Wish You Love," exudes warmth and yearning. Gilberto's Amoroso album included Consuelo Velasquez's Spanish classic "Besame Mucho" and Gershwin's "S'Wonderful," both of which show up on Passos' album, the latter being the only English track. Claus Ogerman provided the arrangements for Gilberto's album and both of these new versions are also given lush arrangements with sweeping strings, the kind that used to be ubiquitous on the more sophisticated easy listening albums of the late Fifties and early Sixties. Like its earlier namesake album, Amorosa has all the signs of becoming a classic work. Although the genre may no longer be seen as hip in Brazil, Passos, with her airy and sultry style of singing, is undeniably one of the best female singers extant of the soothing and sensual bossa nova repertoire. Unlike Astrud Gilberto, whose rise to stardom was meteoric and more or less serendipitous, Passos has paid her dues by slowly building her career over the course of several decades. Amoroso isn't a ground-breaking album but if it turns out to be popular in North America, it could lead to a revival of sorts for the genre back home. Like the sweltering sun, the sinuous tropical breeze, and the cool tides of Copacabana Beach in Rio, where this kind of music originated, Amoroso washes over you like a gently rubbed, silky unguent and leaves you feeling relaxed, invigorated, and maybe even just a little bit amorous. - Paul-…mile Comeau
Available from cdroots.com