Walter Pardon
A World Without Horses
Topic

Sam Larner
Now Is The Time For Fishing
Topic (www.topicrecords.co.uk)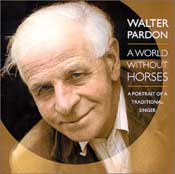 It doesn't come much better than this. Here are two of the finest traditional English singers ever recorded, captured in top form and accompanied by bulging booklets explaining background, analysing style, and presenting full song texts. Set aside the verbiage for later, though, and just open your ears. And if anyone ever tells you that there is one over-arching "traditional singing style," play them Pardon and Larner back-to-back, and raise a quizzical eyebrow.

Walter Pardon and Sam Larner both came from Norfolk, about twenty miles apart, and in the same general area that yielded many other distinguished traditional singers - and were discovered and feted by the English folk revival, Larner in the late 50s, Pardon in the late 70s and early 80s. Both were at a fairly advanced age by the time they were heard and recorded by folk afficionados, both sang unaccompanied and shared the sense of pacing and concentration on lyrics and story common to the old singers, but despite these common features they were very different performers. Walter Pardon, who learnt his considerable repertoire largely from his uncle at an early age, found that the old songs were the object of ridicule in his community and as a result sang them entirely for his own pleasure for three decades, until the folkies arrived on his doorstep. Sam Larner, born nearly forty years earlier, found a ready audience for his songs in local pubs, and developed a rumbustuous, extrovert style contrasting starkly with Pardon's thoughtful, serious performance.

I was lucky enough to see Walter Pardon sing at the first folk festival I went to, in 1977. Head full of Martin Carthy guitar licks, I was nonetheless impressed by this shy-looking, elderly man who stood stock still as he sang, hands behind his back, eyes staring at the floor, and saying no more than a simple and heartfelt "thank you" as the applause for each song swelled. (The fact that he was sharing a stage, and alternating songs, with my idols the Watersons did his street cred no harm either.) Listening to this CD now, I am reminded of the tremendous dignity he brought to his songs and, while all good traditional singers communicate a sense of love for their material, I have never felt that love more strongly than with Walter Pardon. There are no histrionics, no vocal mannerisms or flourishes, but Walter wants you to be as involved in the story as he is.

The material on A World Without Horses is broadly what you might call English lyrical folk song. Not much in the way of big ballads (though his "Trees They Do Grow High" is a fine version), but plenty along the lines of "Dark-Eyed Sailor," "The Rambling Blade" (aka "Newry Town") and "The Bold Fisherman." Reflecting Pardon's family background in farming, we have "The Pretty Ploughboy" and "The Jolly Waggoner," and although he wasn't from a coastal town as Larner was, the importance of the sea in English folksong is underscored by "The Loss Of The 'Ramilies'" and "The Handsome Cabin Boy." The texts are always full and coherent, and the tunes often arrestingly different from the usual ones: his "Bold Princess Royal" has a particularly good melody and can be contrasted with Sam Larner's standard-issue version. Technically Pardon's voice is quite low-pitched, with a soft burr, and very accurate apart from a slight tendency to drift sharp in pitch over the course of several verses.

His approach to rhythm is sometimes idiosyncratic - the time signature of "The Trees," for instance, is very ambiguous, and I wouldn't like to be the one to notate it. Others, though, can pore over the technical detail, and I strongly recommend you visit the Musical Traditions website, not just for such expert analysis, and not just for the opportunity to buy a complimentary double CD containing much additional Walter Pardon material (including Union songs and Victorian tearjerkers), but also to eavesdrop on some entertainingly vituperative arguments between traditional song scholars and collectors regarding Pardon's recorded legacy. Ah, when the traddies fall out.

Sam Larner was a fisherman from Winterton, on the East Coast of England. He was recorded by Ewan MacColl and Peggy Seeger for a Folkways LP released in 1961, reproduced right down to the original cover notes for this CD. Some might have preferred a definitive compilation to match that of Pardon, but you have to admit that this collection hangs together well as a unit. Containing several interview excerpts, including accounts of life on the herring-grounds, tall tales, and delightful rhymes concerning weather and sea-lore, it provides a fuller picture of a man who was clearly a larger-than-life character. Bear in mind that this is the voice speaking throughout the Singing The Fishing Radio Ballad, and that MacColl's original songs for that record drew heavily on Larner's narratives. Sam Larner's song repertoire includes material relating to his work ("Up Jumped The Herring," "The Dogger Bank") but plenty of English country songs too, with an obvious liking for the bawdy. In the spoken passages he tells with cackling relish of his track record as a ladies' man, and the sexual shennanigens of "Butter And Cheese And All," or the saucy wordplay of "No Sir, No," obviously appeal to his earthy instincts.

To the lighter songs he adds spoken asides or guffaws of laughter, but although he revels in knockabout fun and uses a style far more declamatory than Walter Pardon's, as you'd expect from one practised in holding the attention of a noisy pub, he achieves undoubted grandeur on the more serious songs, like "The Ghost Ship" or his excellent variant of "Henry Martin." He also sings a version of "The Wild Rover" that (or so I've heard from a usually reliable source) was passed by MacColl to the Dubliners and evolved into the tub-thumper we all know today - certainly the song's English credentials are strong. Larner's relationship with his songs is less intimate and intense than Walter Pardon's, but his enthusiasm for them is no less (I hope I can muster such energy and lust for life when I'm eighty!) and he puts them over more accessibly. I've no intention of ranking the two, though. These singers are jostling for position at the very top of the tree and, if you want to know about real English folk-singing, you have to hear them both. - Brian Peters

Both songs are (c)2000 Topic Records, UK and used by permission Comment on this music or the web site.
Write a Letter to the Editor