Oysterband
Here I Stand
Omnium (www.omnium.com)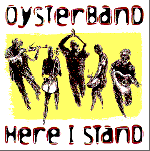 The Oysterband are tuneful bastards, and their strong suit on Here I Stand lies in balancing the subdued, lush qualities of their Deep Dark Ocean (1997) record with the snapping, crackling pop-craft that we've come to love. The gritty anger of earlier recordings is tempered, with the politics present in generalized, stoic notions of surviving the modern world. "On the Edge," the first track, expressly takes the global economy to task, while "Jump Through the Fire" is an urgent blast of righteous punk.
The collaboration with anarchist rockers Chumbawamba is disappointing. The lyrics of "This Is the Voice" (music and perseverance) prove too creepily akin to Chumba's monster anthem "Tubthumping." However, the remainder of this new album gets stronger, progressing by feeding on its own tense balancing act of despair and hope. Ballads are of the faded love variety: "She's Moved On," for example, is superior songwriting from John Jones and Ian Telfer, truly capturing male vulnerability in the face of post-relationship angst. Equally spare is the twilight sexiness of "Someone You Might Have Been," an album highlight where Chopper's dark cello and Lee's drumming work to great effect. Jones takes his time with elemental lyrics such as: "Sink beneath the stream/Weeds will take your hand/Pebbles clean out your mind/Eyes close on green." It's a harrowing vision, and the nakedness of this song feels like an exorcism of longing for opportunities missed.
The Oysterband also take some risks and add new textures. Interludes include not only the Finnish kantele and glass harmonica, but also a rocking cello instrumental based on a Holst theme. By the time of the closing stomper "This Town," the Oysterband have revitalized their sound with an emotional tour de force. - Lee Blackstone