Caetano Veloso
Orfeu
Nonesuch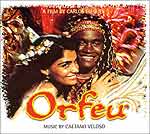 Orfeu is the soundtrack for the new Carlos Diegues film that retells the myth of Orpheus and Eurydice. Set in a contemporary Rio de Janeiro slum, the real hero of Orfeu is Carnival itself, which assumes mythic proportions. It is a sacred time with roots in ancient Bacchanalian rites, a cultural river fed by African and Portuguese Catholic streams. Carnival is the transmitter of an authentic popular Brazilian culture. It is illusion and magic, a release of tremendous human energy and creativity. Cinephiles may remember "Black Orpheus," the 1959 film made by French director Marcel Camus. Although the film won an Oscar for Best Foreign Film, it was regarded by many Brazilians as overly romantic and lacking in authenticity. For decades, Brazilian director Carlos Diegues has longed to remake the film, seeing it as "the myth that best explains the destiny and frustrated vocation of the Brazilian nation." Diegues tapped Caetano Veloso to supervise the film's soundtrack.
Of the 17 tracks, the first eight are full-fledged musical compositions while the remainder is orchestral film music. "O Enredo De Orfeu" is a hard-edged samba that incorporates hip-hop. The film's theme song reminds us that the contemporary Brazilian Carnival draws on a world popular culture as well as a rich Brazilian history. "Sou Voce" is a guitar driven love ballad backed by an orchestra. The song is written by Caetano Veloso and performed by Toni Garrido who plays the role of Orpheus in the film. "Valsa De Euridice" is a romantic instrument that introduces Eurydice played by Patricia Franca in the film. "Cantico A Natureza" is a hymn to spring. There's an obvious musical connection between bossa nova and samba in this song. It's a prime example of how Brazilian music combines real poetry with subtle rhythms and lilting melodies.
"Manha De Carnival", performed by Toni Garrido, references the original theme from "Black Orpheus." "Os Cinco Bailes Da Historia Do Rio" is a Caetano Veloso song in which Carnival represents a political statement about freedom. Veloso's roots are in the Tropicalia movement, a self-conscious attempt to infuse popular music with a political, social and cultural consciousness. This song represents the way in which the best Brazilian music is able to link social content to popular music. "A Felicidade", written by Tom Jobim and performed by Maria Luiza Jobim is a gorgeous lush romantic ballad.
"Se Todos Fossem Iguais A Voce," also written by Tom Jobim, is performed by Caetano Veloso. Jaques Morelenbaum's orchestral arrangement brings out Jobim's unique personality. Jobim was blessed with an incredibly refined musical intelligence and a sensuality in sound. Whether his music is played on a single acoustic guitar or scored for a full orchestra, Jobim's tunes are full of subtle inflections and nuances. Although Orfeu is being packaged as a Caetano Veloso album, it is, in truth, more of an eclectic compilation of modern Brazilian music. Thoughtful and imaginative, Orfeu reminds us how rich and varied Brazilian music is. - Aaron Howard