Malcolm Dalglish and the Ooolites
Pleasure
Ooolitic Music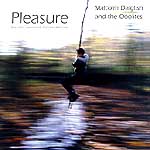 Had I not listened to it attentively from beginning to end, I might have dismissed Pleasure as simply saccharine. Instead, I have found that it has grown more and more endearing to me, and I now prefer to listen to it over headphones, as it were, mainlining the stuff. This CD contains some of the sweetest and smartest music I have heard in a very long time.

Malcolm Dalglish is to be commended for his enterprise, (these are all commissioned pieces, and he has put out this CD under his own label) and the Ooolites are to be praised for the trueness of their voices, and their ability to execute the subtleties and complexities of Dalglish's arrangements. The songs are all highly melodic, with heavy references to American and Celtic folk music either direct or borrowed. The lyrics never disappoint, tackling motifs of life, death, air and water. It is impossible to single out any one track as better than another, for with each listening the songs reveal new strengths. The combination of young fresh voices and hammered dulcimer is the perfect vehicle for this material.

I also recommend that this CD be played for babies. With its high-pitched sounds and sophisticated structures, it will entertain the very young. Aptly named, this one. It is a pleasure. - Michal Shapiro

The sounds sample we chose is "Reel A Bouche," a French Canadian folk tune adapted by Malcolm Dalglish.© 1999 Ooolitic Music. Used by express permission.