Los Mocosos
American Us
Six Degrees (www.sixdegreesrecords.com)
O-Maya
O-Maya
Self-published (www.o-maya.com)
The explosion of creativity that gave rise to a distinctive strain of West Coast Latin popular music following World War Two has rarely won the appreciation it long has merited. Practically forgotten is the era sparked by the likes of Lalo Guerrero and Don Tosti's Pachuco Boogie Boys. Early rockers Ritchie Valens (nee Valenzuela) and Freddy Fender (Baldemar Huerta) are now historical footnotes, Tower of Power and War had their day, and (except for acid-jazz-heads) the late, great Cal Tjader can hardly be said to be a household name. Indeed, apart from the enduring presence of Santana and Los Lobos, most listeners would be hard-pressed to name a contemporary working West Coast Latin band. That's unfortunate, because the Left Coast is a different sonic world, and the best contemporary artists bring a perspective and commitment to their work that warrants careful listening.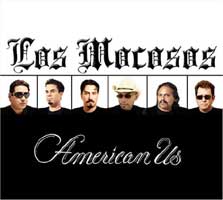 With American Us, the third release by Los Mocosos (loosely translated, the snotty-nosed brats, albeit a term of endearment), the San Francisco Mission District band (an extended family, actually) confirms a continuous evolution and maturity of vision rarely heard in the flood of ear-wash that passes for popular music today. Under the steady hand of stalwart Bay Area producer Greg Landau, this one has a way of sneaking up on casual listeners, who at first may think they're hearing merely top-notch Latin dance music - with an articulate admixture of funk, merengue, hip-hop, ska and other echoes of popular styles. But this is more than mix-and-match cover-fusion of the week. There's a positive critical philosophical revelation herein, perhaps most clearly stated in the album closer, "Blind Faith," wherein singer-timbalero Manny Martínez - surveying the utter wreckage of unchecked twenty-first century national imperialism - expresses the lyrical equivalent of Antonio Gramsci's pessimism of the intellect, optimism of the will.
But that's getting ahead of the story. Everything Los Mocosos touches turns to song, as when they revisit the low-rider classic, "I'm Your Puppet," complete with a rap break that transforms it. To a reggae beat, "The Beast" is a reflection upon police brutality ("Why do I run? / Because I saw what you did to my friend / Just because I clench my fist / Doesn't mean I'm a terrorist"), while "Bacalao" (codfish) is a barbed repudiation of the everyday sleaze-bag opportunist, "a person who thinks the world owes him something, so his personality stinks" - with a killer hooking chorus.
On a more upbeat note, "Volvieron" is a essay on the down-and-dirty fatback Latin sound (shades of Willie Bobo), complete with signature Perez Prado vocal flourish. "In The House" returns to a theme that runs through their work, a proud but inclusive anthem to Mestizo-Creole American identity with room for all who are ready to dispense with the pretensions of affluence and the corrosive privilege of whiteness: "This minority group is the majority... We be representin' all colors and sizes / People they be tripping 'cause we full of surprises... We're coming together through the language of music... What the hell they gonna do without us?" (Interested listeners should check out the band's prior release, "Shades Of Brown," for more in the way of positively subversive conscious-party music.) Then there's "Señor Presidente," which begins with a voice sample, "A world run by a handful of greedy bankers and CEOs who nobody elected cannot possibly last..." The chorus asserts, in rap-o-metric Spanish, "Señor President / What you have in your mind / Is very different from what your people think... / Think it over, because it's getting late / Many of us think you're a coward / The nationalist attitude / Has opened the door to terrorism." Enough said.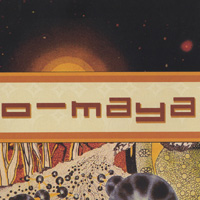 Also hailing from the Bay Area, O-Maya's eponymous, self-produced first album - billed as "Afro Latin Hip Hop," but deeply rooted in R&B, rap, ska, soca, DJ sampling and Latin folkloric traditions from Afro-Cuban to cumbia, ranchera, veracruzano and Chicano - offers its own take on El Presidente. "Mentiroso" ("liar"), the album opener, wastes no time laying down the law. With voice samples from W's pearls of wisdom, horse-choking platitudes about national greatness and the like, singers Rico Pabón, Hector Pérez and Jorge Martínez uncork some sceptical, bilingual call-and-response rap commentary: "Instead of educating the youth / They're making the troops / Spill blood for the thugs / Who took office by coup." Quoting the lyrics does not capture the confident flair of their astonishing delivery, and this is only a selected, parental-guidance-approved sample, but having put the gangsters on notice, O-Maya get down to business.
It doesn't hurt that this ten-member ensemble, equipped with a wicked sense of humour, features only top-notch instrumentalists and singers, the latter including Destani Wolfe, O-Maya's secret weapon of mass instruction. Wolfe is a woman who possesses the rare expressive capacity (think Nina Simone) to knock the listener flat with the soulful beauty and inalienable truth of her extraordinary voice. Wolfe is a veteran of the a cappella group SoVoSo, a Bobby McFerrin project, having also performed with Bay Area fixtures Bobi Cespedes and John Santos, and Cuban piano genius Omar Sosa. Her solo leads on "No Matter The Space And Time," "Pablo Nuevo," "Lágrimas De Risa" and "Nothing Less Than Freedom" are worth the CD price alone. On the latter, Wolfe sweetly chides the complacent among us, "When there is injustice / Do you ever think / How could they have done this? / Turn your back on the action... / It don't affect you."
O-Maya offer an affirmative philosophical treatise as well, sampling (there's something of Transglobal Underground here) a sharply critical speech by - of all people - Pablo Casals, who eerily anticipated the fear and loathing unleashed upon the world by the current White House occupying force. Those inclined to write off North American popular music as wholly symptomatic of a regime rotting from within need to give O-Maya and Los Mocosos a listen. Against all odds, these exceptional San Pancho bands tender the collective prophetic vision, sardonic wit, and principled artistic dissent that keep hope alive. - Michael Stone
Los Mocosos available at Amazon.com
O-Maya available at CD Baby