Burhan Öçal & the Istanbul Oriental Ensemble
Caravanserai
Network (www.networkmedien.de)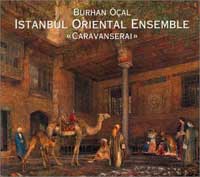 Islamic regimes have taken a generally dim view of secular music, leaving it to gypsies and other socially marginal groups. Under Ottoman rule, gypsies integrated the modes (makam) and improvisational taqsim scheme of Turkish classical music with a broad range of folk influences, and carried those traditions forward into the present.
Burhan Öçal is a leading contemporary interpreter of the gypsy music traditions of 18th and 19th Century Thrace. Son of an Istanbul-area musical family, he studied percussion with his father and learned to sing with his mother. Equally adept in Turkish and Western folk and classical styles, jazz and electronic music, Öçal commands a strong following in Europe and the Levant. Apart from heading the Istanbul Oriental Ensemble, he also has a jazz band (the Burhan Öçal Group), and leads the Classical Istanbul Ensemble, which specializes in classical music of the Ottoman era. A genre-bending artist, Öçal has also undertaken roots-fusion collaborations with classical guitarist Eliot Fisk, free-funk bassist Jamaladeen Tacuma, keyboardist Joe Zawinul, Australian pianist Peter Waters, Portuguese pianist Maria João Pires, and Swiss jazz bandleader George Gruntz.
Reflecting the eclectic musical compass of the great Gypsy migration from India and the Middle East to Europe, the Istanbul Oriental Ensemble comprises clarinet, kaval (flute), kanun (zither), keman (violin), oud and percussion. Caravanserai features Öçal on bass darbuka (single-headed goblet drum), bendir (stringed frame drum), kös and kudüm (kettledrums), and he also is proficient on such Middle Eastern stringed instruments as oud, tanbur and divan-saz. Caravanserai is an erudite essay of mostly original compositions by Öçal, kanun player Alaattin Coskuner, and Ferdi Nadaz, the group's now-deceased singer, clarinetist and kaval player, to whom the recording is dedicated.
The romantic theme of the album unfolds as the melodic percussive narrative of a caravan's sojourn at a desert oasis or caravanserai. The group's cohesiveness is such that no single artistic voice stands ahead of the rest, without star turns; this is an ensemble in the truest collaborative sense. An Öçal composition, "Kata," opens the album, signaling the caravan's arrival with a series of energetic musical vignettes in which the kaval's floating spirit constitutes perhaps the ensemble's most enthralling voice, heard again on Nadaz's meditative "Ates Basinda." Ekrem Bagi's crisp darbuka work is highlighted on "Gelinin Oynamasi," while Öçal takes a smoldering darbuka solo on "Kor Gibi Darbuka." Penned by Coskuner, "Basbasa," features some especially captivating kanun work.
"Askin Sarabi" sets up an enchanting interplay between a wailing clarinet and interlocking violin, kanun and percussion parts. Nadaz's soaring, austere vocals and clarinet on "Ya Kerim," punctuated by violinist Fethi Tekyaygil's wine-dark spoken commentary, constitute a weary reflection upon the fleeting character of the human condition. "Orient Ekspres," the only traditional tune, closes with a driving return to the caravan trail, revealing the continued vitality of 21st-century Turkish gypsy music. - Michael Stone
Spring 2001 Tour
The Istanbul Oriental Ensemble will undertake a 14-stop North American tour in February-March 2001.
Tour Info
Oçal Discography
Caravanserai (Network)
Sultan's Secret Door (Network)
Gypsy Rum (Network)
Ottoman Garden (l'empreinte digitale)
Ottoman Secret (l'empreinte digitale)
Comment on this music or the web site.
Write a Letter to the Editor