The musical elements differ, but the wildly invigorating eclecticism with which Numidia, an eleven-piece ensemble from northeastern Spain, infuses its debut recording, Nómadas, brings to mind Ozomotli's equally bizarre, equally pleasing first release. Numidia's vocals are competently delivered in a quartet of languages, but it is the band's instrumental vision and mastery which set it apart, pride of place assumed by its unusual 'brass' section, in which both fagot (bassoon) and gaita (single-reed bagpipe) figure prominently.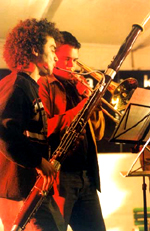 On the lead-off track, "Agraw," a staccato guitar melody is quickly joined by Numidia's powerful brass section, in this case dominated by trombones (trombon de varas and trombon de pistones), its embellishments ranging from the exotic to the funky. With its central percussion break, "Agraw" is reminiscent of the customary overture-processional to a James Brown performance, in this case heralding the hardest working band in Navarra. "Inesliyen" begins calmly with rich gaita-led brass behind Karim Kerchit's sinuous Berber vocals, pretty enough, but quickly surpassed as the pace doubles, brass and accordion dueling for attention, castinets accenting the choruses. A driving beat and dense brass underlie a coruscating gaita figure in "Obsesion," leading into a driving vocal melody, interestingly intoned by Merche Abad's nasal alto. There is a wonderful passage in which bassoon joins gaita in its melodic flight as the brass switches to a rock-steady reggae rhythm, a tightly arranged triumph.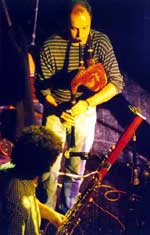 "Polka Pik" is a dizzying, playful instrumental romp, beginning with an accelerating Macedonian dance, segueing through a gentle cha-cha into a wild beer-hall polka and back. "Bulerias" presents a brass-led interpretation of a form familiar on flamenco guitar, bassoon lending a desert air, horns threatening jazz, but all faithful to Juan Antonio Jiménez' guitar base. The best single song on Nómadas is "La Encina del Pensamiento," a forceful waltz beginning with percussion and a two-part brass introduction before erupting into a driven fandango featuring brass, the gaita-bassoon combination, and accordion seamlessly alternating in support of another Abad vocal, a marvel of tonal and textural diversity, one climax after another. It would be difficult to overstate the pleasures and surprises of Nómadas.
Song: "La Encina del Pensamiento"
©2001 Numidia, used by permission
Photos courtesy Numidia
Band web site: www.numidiamusic.com
Nómadas is available at cdRoots
---