Various Artists
Northumberland Rant: Traditional Music from the Edge of England
Smithsonian Folkways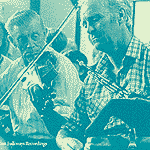 One of the prominent markers of regional identity in the northeastern edge of England is music, and this release functions as a fine introduction to the music of Northumberland. The 21 tracks feature giants of the traditional scene such as Billy Pigg, the High Level Ranters, Willie Taylor, Joe Hutton and Anthony Robb as well as more recent champions of the music such as Kathryn Tickell and Chris Ormston. The tracks were recorded over the course of 45 years, in the studio and in the field (although the sound quality is high throughout).
In addition to vocals, the primary instruments include the northumbrian smallpipes, fiddle, harmonica and accordion. The smallpipes (which occupy a central place in the region's musical lexicon), have a quieter, sweeter, crisper sound than their cousins to the north. Due to their construction, they have more precision and versatility (in terms of octaves and incidentals) than other types of bagpipes.
For me, one of the clear highlights of the release is the showcasing of the smallpipes. The relevant tracks range from the frenetic style of Billy Pigg, the more stately Jack Armstrong, a pibroch-like piece from Anthony Robb, the more ornamented style of Chris Ormston and the cosmopolitan playing of Kathryn Tickell.
The release includes a 30-page booklet with helpful information and pictures. Some of the players on the CD are now departed, and others are only at the early stages of their careers, which itself illustrates the continued strength of traditional music in Northumberland. - Ivan Emke