The Nields
If You Lived Here You'd Be Home Now
Zoe/Rounder (www.rounder.com)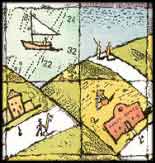 The Nields demonstrate that roots, like gold, are where you find them. More so than on previous albums, The Nields' roots are heard to burrow into the Seventies, with further tendrils extending to the bright sounds of Sixties bubblegum and the pop of the British Invasion, including some later Beatles. Such an explicit homage in no way obscures the signature Nields sensibility, upbeat even in life-story adversity, effacing the crisp sound of their twangy folk-rock abetted by guest musicians such as the Kennedys, or muting the often chilling vocal harmonies of the Nields sisters, Nerissa and Katryna.
"Jeremy Newborn Street" is energetic, bouncy, and coy, its recorder solo sounding enough like an ocarina to render some slightly Dixieland brass surprising. More mixed musical allusions await in "Wanting," including weepy strings and a "Free Bird" slide guitar, a song lyrically central to the album's theme of home; and what is home but roots? "This Town Is Wrong" approaches home more as place from which to flee, emotional lyrics and vocals depicting a young girl's strangulation by small-town expectations, lively rock advocating Barbie's escape from the dollhouse. Sometimes the world comes to you, as in "Mr. Right Now," a story of attraction and desire with lyrical directness and a trumpet fanfare that pushes it to breathlessness. There's country Nields, too, in a cover of Hank Williams' "I'm So Lonesome I Could Cry," with yodeling harmonies, high and lonesome but also hopeful.
There's a fair amount of experimentation on If You Lived Here You'd Be Home Now, and most is successfully and enjoyably integrated with The Nields vocal and lyrical prowess. - Jim Foley