Nathan and the Zydeco Cha-Chas
Let's Go!
Rounder (www.rounder.com)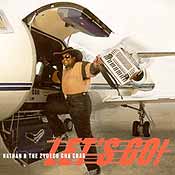 Nathan Williams plays a piano-style accordion, like Clifton Chenier; the resemblance ends there. The Cha-Chas have a bass player, so Nathan sticks to melody lines. Chenier had the blues as his main influence; for Nathan it's soul, the wonderful easy late-Sixties variety. He and the sax play together, for the feel of a reed section. The guitar gets saucy and you're ready to groove.
It sounds like a club date. The keys are flying and Nathan's on fire, shouting "Et toi!" and "Somebody scream, y'all!" "Let's Go!" is a riff on a mission: everyone solos, and the squeezebox romps hard. He often plays in chords, a chunky rhythm for the others to build on. His baritone voice is a major asset; he's best without a lyric, yelling to the band and making you smile. A fine example is "Hard Times." The washboard creaks along, Dennis Williams twangs a big blues, and Nathan gabbles about his old truck. He moans, but in a friendly way, and when he says "Hard times is hard," you know just what he means.
The tune is "Zydeco is All I Know," but the sound is Chicago: uptown horn riffs, soulful voice, and the toughest accordion you ever heard. "Put you in a good mood," he says, and then he does it. "Can't Get Nuthin'" is closer to Memphis, the bad-luck blues served thick 'n' greasy. Feel the lonely waltz of "You Don't Love Me": change the vocal and it could be doo-wop. And on a zydeco, you must hear some French: "Le Bon Manger" is a hymn to Nate's favorite foods. How appropriate that is: his music is spicy, and has a lot of ingredients. Eat it up. - John Barrett