Jose Moreno
El Fidelero Del Valle
Arhoolie (www.arhoolie.com)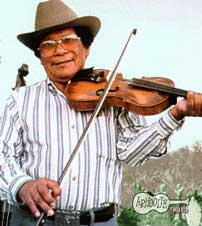 Recent appearances and recordings by Juan Reynoso have sparked interest in Mexican style (non-mariachi) fiddling. Arhoolie has answered the call with a new album from Jose Moreno. Moreno has performed the music of northern Mexico and southern Texas for over fifty years and, like Reynoso, is a repository of the nineteenth century string band repertoire that was replaced by accordion-led bands and, more lately, electric groups.
Moreno's technique is fine, delivering the driving saw strokes, arpeggiated motives, and double stops that enliven this melding of the Old and New Worlds. He also plays three cuts on mandolin and one on accordion. Accompaniment by Amado Bande on bajo sexto and Mark Rubin's acoustic bass is perfect. Some more information on the music styles represented here (polkas, waltzes, huapangos, son matachins, and redovas) would have been welcome, but this happy, tuneful music can speak for itself. - Stacy Phillips