The Monroe Brothers
Vol.1 - What Would You Give In Exchange For Your Soul?
Rounder (www.rounder.com)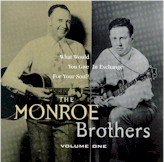 At long last, we can look forward to the release of the complete output of this premier brother duet, Bill and Charlie Monroe, in a projected four volume set. This first volume presents their earliest and most popular recordings for RCAVictor/Bluebird, from 1936 and '37. What captured the record-buying public's ear in the beginning was the sacred material. Indeed, their very firstand most popular release was 'What Would You Give. . . ', learned from a 1926 gospel songbook. But whether performing sacred or secular material, what set them apart from similar duos was the revved up intensity of Bill's stunning mandolin breaks and sharp tenor vocal harmonies. This is not meant to downplay the contributions of brother Charlie. His vocals and guitar work form the bedrock of the Monroe Brothers' sound.
Stand-outs are too numerous to mention. All 15 selections are of a caliber that, in the words of editor Charles Wolfe, "would have unparalleled impact on the future of country, folk and bluegrass music."
The booklet notes include the following telegram from RCA's Eli Oberstein: "WE MUST HAVE THE MONROE BROTHERS ON RECORD. STOP. WE WON'T TAKE NO FOR AN ANSWER.STOP." We can all be glad that they listened to reason.- Frank Dalton
Comment on this music or the web site.
Write a Letter to the Editor