Hossein Behroozi-Nia & Pejman Hadadi
Midnight Sun
7/8 Music (www.SevenEighths.com)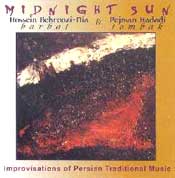 Like classical Indian, Turkish and Arabic music, classical Persian music is based on a series of modal systems (dastgah). Typically, a musician weaves together traditional material with their own innovations in performances characterized by tremendous energy and originality.
On Midnight Sun, barbat (Persian lute) virtuoso Hossein Behroozi-Nia and tombak (goblet drum) virtuoso Pejman Hadadi perform a series of seven instrumental improvisational pieces. Behroozi-Nia is currently the musical director of the National Radio and Television Orchestra of Tehran, which gives you an idea of the musical level he plays at. Although the music is steeped in the classical repertoire, Behroozi-Nia uses the individual melodies as a springboard for creativity. This is not too distant from the classical music ideal yet Behroozi-Nia's improvisations are shorter, less contemplative and much more rhythmic in nature than a pure classical performance would be.
Midnight Sun might remind listeners of North Indian classical music. But this music has an intensity all its own. The drum work by Pejman Hadadi (who resides in the United States) is what really gives this CD its kick. Go out of your way to find this CD even if you know nothing about Persian music. You will be rewarded beyond all expectation. - Aaron Howard