El McMeen
Live
Piney Ridge Music (www.elmcmeen.com)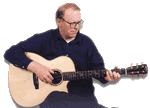 With a career dossier including six solo albums, five instructional books and three video guitar lessons, it is no stretch to say that El McMeen is one of the better-known fingerstyle guitarists in America. His complex and lush crosspicking and arpeggio work almost sounds harp-like, partly due to his favorite tuning, low-C (CGDGAD). Most of the 12 tracks of solo guitar on this release are available on previous studio albums, and/or in his books and videos. However, these live versions certainly provide the confirmatory evidence that he can actually play these arrangements in real time with a standard number of fingers.
There is a heavy influence of Celtic material here, including "Fanny Power," "Pretty Maid Milking a Cow," and "Mo Giolla Mear." High points include a stirring version of "Be Thou My Vision," and several American standards: "Hard Times," "Ashokan Farewell" and "Desperado" (yes, the Eagles hit). Breaking from his previous tradition, McMeen even sings on "Wonderful World." Throughout, he shows his sensitivity to the nuances of a tune, never letting his arrangements get so "busy" that they obscure the melodies.
The spoken introductions are generally short and McMeen's humorous side comes out on the "The Saga of Doo-Dah," about the trials of living with a guitarist who loves to play "Camptown Races" at home. - Ivan Emke
Comment on this music or the web site.
Write a Letter to the Editor