Dou Dou N'Diaye M'Bengue
Thiato Thiate
Dunya Records (www.felmay.it)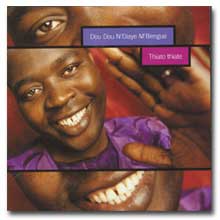 There is no doubting the origins of Dou Dou N'Diaye M'Bengue from the moment he begins to sing. Son of griot Bala Nar M'Bengue, and born in Dakar, this release is a collection of tracks by a singer steeped in the Senegalese traditions that have now become so familiar to us through the music of superstars Baaba Maal and Youssou N'Dour. Unlike a lot of his predecessors, Dou Dou here presents his songs and his voice in a simple, understated style, with minimal arrangement, accompaniment and instrumentation. He gives us a rare glimpse of what an authentic, village performance might sound like. Shrill, nasal, gentle and forceful all at once, Dou Dou perfects the Senegalese sound. Do not expect a huge burst of energy when you put this CD on - it is predominantly listening music. It is pared down, stripped away to the bare minimum in order to let the vocals shine through. And they do, wonderfully.
The outstanding song on the album, for me, is the title track, "Thiato Thiate". Extremely simple, with xalam, percussion and an underlying keyboard providing chordal support, it is immensely beautiful. The singing is simultaneously powerful and subtle, with the repetition weaving a kind of magic over the listener. There is hardly a better vehicle for Dou Dou's voice, and the sincerity and sensibility which he brings to a song such as this is intensely moving. The same can be said of a number of other tracks, including "Similaye" and "Cherif Ousseynou Laye". The former is a very mellow song, composed mainly of the repetition of the title. The heart of the song lies in Dou Dou's exploration of the simple melody. Again, percussion is pushed to the background, while the xalam and keyboard provide the rest of the accompaniment.
Despite all of the above, the songs that truly stand out and grab the listener's attention on this album are the exception rather than the rule. Repetition is frequent, and while this works exceptionally well on occasion, it does start to wear thin after a while. It takes a real talent to pull this off over almost an hour-long CD. I found my attention intermittently wandering, only to be snapped back to attention by the tracks mentioned above.
While the sabar drums in particular are kept as unobtrusive as possible, there are snatches of infectious percussive energy. The xalam, performed by Sidi M'Bay, features on most of the tracks, and it is a joy to hear this instrument being given even this much prominence - again, something of a rarity. The fact that Dou Dou sings genuine griot music is also to be celebrated. The songs are composed of traditional griot material - words of praise for those in one's community, a song about boys' initiation, a song about the evils of money.
Weaknesses aside, this is a fine collection of songs from a talented singer. While there are negatives, there are outstanding performances which compensate for the failings, and make it worth investing in. Definitely a gem, albeit with one or two flaws. - Jennifer Byrne
Listen
CD available at cdRoots