Matlubeh
Yar Kelour
Iris Musique (www.iris-musique.com)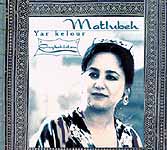 Matlubeh comes from Uzbekistan, in central Asia, where the musical tradition dates back at least 2500 years (as documented by the early historian, Herodotus). Despite the modern presence of Western and Turkish pop, a place remains for the Uzbek traditional music, a place which is further ensured by singers like Matlubeh.
Inspired and encouraged by her mother, Matlubeh initially learned to sing from the transistor radio and the workers in the cotton fields. Later, she studied the masters at University and went on to work with Radio Uzbekistan's Shashmaqam Ensemble as a solo singer. She has since traveled the world, but she still sings of everyday life in her home country.
The 11 tracks are traditional, exploring themes from Uzbek popular culture, threads of musical history that can be heard during celebrations of harvest or marriage or circumcision. She is accompanied by her long-time musical companion, Nabi Ziaev, on the oud and robāb. This is a fruitful combination, with Matlubeh's voice rising over the steady rhythms of Ziaev.
Matlubeh means "she who is desired," a fitting description for a singer with a powerful, well-trained voice, yet with the folkloric warmth still present.- Ivan Emke