Hussein Al Masry
Between The Ganges and the Nile
Institute Arab du Monde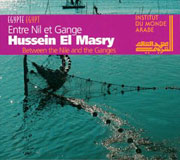 The Egyptian oud master continues to press onward into untried but completely plausible fusion experiments with the blind Indian sitar master Narendra Bataju. Going beyond the remarkable Zagal of 1993, where intermingling of Arabic and Indian players and ideas occurred, Al Masry literally weds the oud to the sitar, the maqam to the raga, for one unbroken spell of 54 minutes on his latest recording.
This feat is uncommon of in the realms of cross-pollinated international classical music (where the Ghazal projects of Kayhan Kalhor are notable). Over such a long stretch of time, there is nowhere for the players to hide any unrealized aspect of their discussion. It is nakedly obvious whether meaningful dialogue is taking place or whether two languages are conversing with the clunky signs of translation mismatch. But here smoothness and understanding reign and it is a testament to the skill and resilience of these two musical adepts.
Between the two sacred rivers El Masry and Bataju have realized a twin crossing journey divided into two halves. The first develops like an alap split between the two lead men and goes on for a very satisfying and intimate half-hour. It is seamlessly followed by a second section of percussion accompaniment, where Hanif Khan's tabla and Adel Shams El-Din's daff and riqq join in to engage the waters more vigorously. From an encounter of just two to an even more astonishing encounter of four, the ingression of four persons and two cultures into each other, merging almost magically, is witnessed. In such a meeting, reduced to these few particulars of instrument and form, a truly valuable experience develops that teaches at the same time it dazzles with musical refinement. Though I admit to nibbling on an iceberg of too many recordings, a more instructive and gratifying experience in the canon of world music I have not found of late than this border-vaporizing act of reverence and brotherhood. Superb sound too. - Steve Taylor
Comment on this music or the web site.
Write a Letter to the Editor