Juan de Marcos Afro-Cuban Allstars
Live in Japan (CD and DVD video)
DM Ahora Music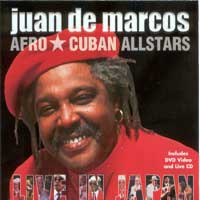 Havana-born Juan de Marcos, a conservatory trained guitarist, tres player, composer, conductor and producer, has been a high-profile name in Cuban traditional music since the latter 1970s. Co-founder of Sierra Maestra, the groundbreaking son revival group, de Marcos won overseas notice through collaboration with producer Nick Gold on the Buena Vista Social Club project and its spin-offs (Afro-Cuban Allstars, Ruben González, Ibrahim Ferrer, Omara Portuondo). As heard (and seen on the accompanying DVD video) here in live concert, the Afro-Cuban Allstars work out on a dozen Cuban classics (Mario Bauzá and Chico O'Farrill's "Tanga," Compay Segundo's "Chan Chan," "Cheo" Marquetti's "Amor Verdadero," Pio Leyva's "María Caracoles," José Fajardo's "Los Tamalitos de Olga," Silvio Pino's "Los Sitió Asere") and de Marcos compositions ("Distinto, Diferente," "Habana del Este," "Reconciliación," "Cada Vez que Te Veo").
The playing is top-notch, particularly that of the percussion section and pianist David Alfaro, but the hottest action is rightfully with the singers, all old pros: Teresita García Caturla, Luis Frank Arias, Félix Baloy (hear his "El Son de Baloy") and Manuel "Puntillita" Licea (now deceased, and to whom this release is dedicated). In capturing what is one of Puntillita's last performances, the DVD video also stands as a critical historical document. Altogether, this self-produced title conveys the improvising genius and easy vitality of the group's interactions with one another, and their call-and-response engagement with an appreciative Japanese crowd. The result is a welcome audiovisual record of a generation of Cuban musicians whose collective talents, long denied a global audience for perversely political reasons, finally enjoy their day at center world stage. - Michael Stone