World Library of Folk and Primitive Music
Compiled and edited by Alan Lomax
Volume 5, Yugoslavia
Rounder (www.rounder.com)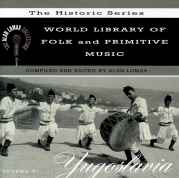 This re-issue of the field recordings of Alan Lomax is a two CD set, and contains music from Croatia, Slovenia, Montenegro, Bosnia-Herzegovina, Serbia and Macedonia; those countries that made up the Republic of Yugoslavia after the close of the Second World War. The tracks were recorded at a folk festival organized by the government of Yugoslavia, in 1951, which at the time sought to promote folk music as a nationalistic statement that despite its obvious diversity could be a unifying force. There was evidently such a wealth of music being performed at the festival as to create real dilemmas for recording engineer Peter Kennedy. As the liner notes recount: "Mr. Kennedy clutched his microphones as the corps of peasants romped on the hotel ballroom stage, and in between he dashed into the bar to record as much as he could at close quarters." The result of this is an extremely uneven sound quality, which in some cases distances the music rather severely, so that while ethnomusicologists may delight in these recordings, a real effort will have to be made by the more casual listener to extract pleasure from some of these tracks.
The focus is on folk music, and there are no "state sponsored" performances in which virtuosity for its own sake and westernized polish prevail. The liner notes give a great deal of information about the context of each track, whether it is a work song or a wedding song. The range of music is quite broad, from the completely accessible Croatian tamburica orchestra tracks to the starkly dissonant instrumentals from the island of Krk. There are two epic songs, sung by guslars, and a sevdalinka from Bosnia. All the choral singing is beautiful with several pieces reflecting the influence of church polyphony. A "bachelor's song" from the Croatian Hungarian border is particularly lovely, as is the following Slovenian Harvest song "Kresnice." There are a few very arresting solo vocals; the Bosnian song "Sastali Se Capak I Fatari " sung by Jasim Aliagic, the Macedonian song "Malino Mome" sung by Maria Groseva, and "Pecalbarska Pesma, sung by an unidentified woman of Bitola. "Zvoni Zvonce" is sung by an unidentified bagpiper with an heroic high baritone register.
The entire gamut of indigenous drums, wind, and stringed instruments is here: Gusles, zurnas, gaidas, sopeles, frulas, bracs, gadulkas and kavals abound. Dances and explanations as to their function within village life are also a large part of this collection. In many cases the sounds of the dancers feet are an essential part of the percussion. There are sixty one tracks in all; as stated before, some will require extra energy on the part of the listener to "get inside' what is happening. However, this is an excellent, comprehensive document on the music of these various regions. Anyone wishing to learn about this subject would find a world of study revealed.
The usual musings that arise while listening to a collection of this nature must be expressed; how many of these songs have become merely exhibits in a musical archive? Although most of the dance music from Croatia, Serbia, and Macedonia is being played vigorously by folk revivalists (and certainly the kolo is still the dance of choice in Serbia), how many of the rituals that many of the songs are intimately linked to have died off? To some extent the communist era inadvertently helped to preserve this music, simply by keeping economic growth to a minimum, so that the agrarian life that created it stayed viable well into the second half of the twentieth century. Inevitably one wonders how this kind of primal music anywhere will fare with the encroachment of westernization, industrialization and (our latest "ization") globalization. - Michal Shapiro
Available from cdRoots