Burkina Faso
Lobi Country: Funeral xylophone
Ocora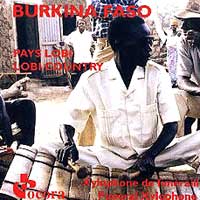 The Lobi, who inhabit northern Ghana and southern Burkina Faso, are well-known for the xylophone music played at their funeral ceremonies. Recordings of Lobi music have been in evidence since at least the 1960s, yet it seems that many years have gone by since a new set of recordings have been made available. The material on this compact disc was recorded between 1991 and 1998 and presents two of the finest jolődar (xylophone players) from Burkina Faso.
Lobi funerary music is typified by a solo xylophone producing ostinato patterns which the jolődar uses as a basis for the song and upon which they improvise. To this melodic base are added the vocal refrains, detailing aspects of the deceased's life, and the percussion, which is supplied by the bčmbč drum. Track 6 is of particular note, whereby a speaker's funeral oration is translated by the jolődar into notes on the xylophone, thus enabling the deceased to understand the oratory. This is roots music at its most elemental, the tradition unadorned and intact. The songs are augmented by liner notes which supply an informative background to the music of the Lobi and include translations to the songs.
Ocora (a part of Radio France) has released many albums and CDs of the highest quality of traditional African music and this latest offering is a welcome addition to their catalogue. It is also germane that a new recording of the music of a member of the West African xylophone family be released, given the recent interest in artists such as the Malian balafon players Keletigui Diabaté and Souleymane Traoré. - Graeme Counsel