Lila Downs
La Sandunga
Narada World (www.narada.com)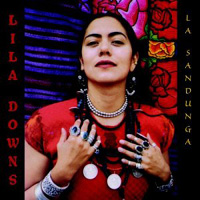 Lila Downs, born to a Mixtec Indian woman (an Oaxaca-based singer who wedded a North American academic), grew up in southern Mexico hearing native music and celebrated female ranchera singers. From her father, Downs expanded her musical range to Billie Holiday, Woody Guthrie and beyond. Downs, who studied opera at university, eventually bonded with saxophonist and musical director Paul Cohen to concoct a Pan-American musical brew like no other. Downs has a vivid sense for vocal improvisation, and an expansive intuitive feel for the expressive traditions of the Americas. She possesses the dramatic authority of legendary singers Chavela Vargas, Lola Beltrán, Lucha Reyes and Lydia Mendoza, the nueva canción sensibility of Mercedes Sosa, Linda Rondstadt's expressive breadth, the sassiness of Sarah Vaughan, the personal-is-political edge of Nina Simone, and the tender poignancy of Lady Day.
Downs weaves a numinous tapestry of indigenous Mexican and Latin American traditions with Tex-Mex, North American folk, blues, jazz, rock, funk, and hip-hop inflections. Hers is an astonishing voice whose mimetic brilliance, affecting coloration and soaring range (in Spanish, English, and indigenous Mexican idioms) reflect a mesmerizing creative tension that razes all categories. Listeners unfamiliar with her work may recall her riveting appearance in the 2002 film Frida, wherein she played a Vargas-like singer, a one-woman Greek chorus to the protagonist's unrelieved suffering (even against a powerful cameo by Vargas herself, Downs more than holds her own).
On this re-release of her 1997 U.S. small-label debut (now with a different song order, three bonus tracks, and expanded bilingual notes), Downs sings mostly in Spanish, including a pair of songs featuring the Tlahuitoltepec Music School children's band (whose muddy brass sonorities carry the listener to a municipal plaza somewhere in Oaxaca), and some haunting Mixtec and Zapotec offerings. The repertoire features regional folk classics ("La llorona," "El venadito"), pieces by Oaxacan composers Máximo Ramón Ortíz (the title track), Chuy Rasgado ("Naila"), Álvaro Carrillo ("Sabor a mí," "Un poco más," "Pinotepa"), José López Alavéz ("Canción mixteca"), and poet Juan de Dios Ortíz Cruz ("Yucu yucu ninu"), plus Downs and Cohen originals.
The ensemble (piano, clarinet, tenor and baritone sax, guitar, bass, Latin percussion) commands a variety of idioms, in brilliant complement to the singer. For Downs, music entails a sacred quest, one not without risk; but laying personal claim to some untouchable Latin classics, her captivating jazz-operatic sensibility is positively transformative, and "Perfume de gardenias," "La malagueńa," and "Bésame mucho" will never be the same. This is a vital introduction to a genuine and original voice whose exacting artistry, spiritual passion, dark complexity and terrifying beauty hold immense promise. - Michael Stone
(One annoying caveat: it's not the artist's fault, but this copy protected CD will commandeer your computer, and may not play properly on all equipment)
The artist's web site: www.liladowns.com
Available from cdRoots