Lalezar Ensemble
Music of the Sultans, Sufis & Seraglio
Volume III: Minority Composers
Volume IV: Ottoman Suite
Traditional Crossroads (www.traditonalcrossroads.com)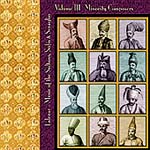 As in the first two volumes of Music of the Sultans, Sufis & Seraglio, each CD contains 40 pages of liner notes by Walter Feldman that provide the listener with the most erudite grounding in Ottoman ethnomusicology.

Conceptually, Volume III is the most interesting in the series. Feldman's thesis is that minority peoples (e.g. Greeks, Jews and Armenians) enjoyed full access to and fully participated, musically and socially, in Ottoman cultural life. It is important to note that Moslem Turks, unlike other Moslem societies such as Syria and Yemen, were also full participants in this cultural life.

Feldman argues that a greater concept was at work: all shared an urban, secular, cosmopolitan musical community centered in the Ottoman court and, later in the 19th century, in a series of urban gazinos (nightclubs). This implies a very different model of Middle Eastern society than the one we have come to associate with that area in the last half of the 20th century. It is a model of tolerance where diverse peoples can come together in celebration while retaining their specific cultural uniqueness. Feldman points out that while minorities shared secular space, they also felt relaxed enough to visit each other's religious services and rituals, and even socialized after the services.

Volume III is also the most musically interesting of the series. The selections did not have to fit any rigid thematic categories so the program can move from one highlight to the next. The selections follow the system of Turkish makams (scales) but lean heavily towards lighter art songs and more middlebrow music. Typical of the light art song are "Nice bir bulbul-I nalan gibi feryad edeyim" ("Oft I cry like a moaning nightingale") for vocal and ensemble and "Cismin gibi ruhunda" ("Your soul as lovely as your body"), a vocal and kanun piece. This is love poetry set to music. Unlike most Arabic music, the aim of the poetry is to service the music instead of the other way around.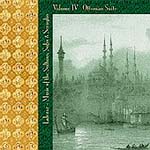 Volume IV's "Ottoman Suite" is a re-creation of a late 19th century classical concert program. The suite follows an order of instrumental introduction to the mode (in this case, the makam known as Segah) followed by vocal solos and group pieces in the Segah mode and ending with several light art songs.
The classical vocal repertoire on tracks 2-6 is rather challenging for the non-specialist. Because the structures appear to be largely static and uniform to the Western ear, I would argue it will be less appreciated by the general listener. The lighter compositions on tracks 7-12 are more accessible. Please note that in no way am I finding fault with the performance or the repertoire, I am simply saying that for the listener who is approaching Turkish music without much preparation, Volume III will yield more immediate rewards.
The Lelezar Ensemble does full justice to the understanding and performance of this repertoire. Moreover, they make important decisions (such as trimming the number of classical vocal selections on Volume IV) that serve the shape and drama of the music. Start with Volume III and then move to Volume I, if these strike you, then move on to the others. - Aaron Howard
Song: "Cismin gibi ruhunda"
(c)2000 Traditional Crossroads, used by permission
At Amazon.com:
Volume 3
Volume 4
Comment on this music or the web site.
Write a Letter to the Editor