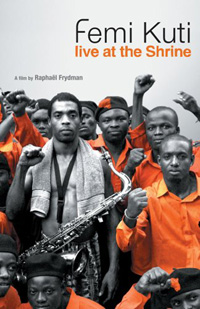 Femi Kuti
Live at the Shrine (DVD and CD set)
Palm Pictures (www.palmpictures.com)
Any lingering doubts about Nigeria's Femi Kuti being the true heir to the Afrobeat throne can be put aside. It's not just through heredity that this son of Fela Kuti has succession rights- he's genuinely got it going on musically and ideologically. In 2000 he re-established the Shrine, a venue in Lagos that back in Fela's time was a combination concert hall, meeting hall, temple of African pride and forum for Fela's anti-government, anti-colonial speechifying. It remains such now, a fact celebrated in this combination CD and DVD package. Pick your word to describe how much Femi looks, sounds and in some ways carries on like Fela- "uncanny" is a good one. True to the spirit of the old man, he even performs almost entirely previously-unheard songs in the rowdy, highly energetic performance captured here (the exceptions being the Fela tribute "97" and Fela's own "Water no get Enemy.") And the band Femi leads onstage is big. There's no shortage of percussion, horns, backup singers, dancers or anything else. There's even two bass players.
So what are the differences between father and son? Well, though Femi's songs are a similar mix of layered groove, militant horns, relentless funk and straight- talking lyrics, they get to the point a lot faster. Where Fela might make two songs fill an hour, Femi sweats his way through a dozen in the same time. And that's not to say Femi's songs are less potent. He blasts the same corruption and injustice that Fela did, and if anything his comparatively concise style speaks in a more focused, less rambling manner than the ganja-fueled run-ons that Fela controlled with an iron fist. Yes, on the DVD we do see Femi enjoying a spliff, making his opinions clear and hanging out with the faithful, but the prevailing picture is one considerably less hedonistic, excessive and arrogant than how Fela nearly always came across.
Between songs, the DVD juxtaposes footage of Fela back in his day with Femi now. What became resoundingly clear to me while watching it was the extent to which the younger Kuti has taken the best aspects of the Afrobeat his father pioneered - the musical fusions, the ensemble energy, the gutsy political stance, etc. - and carried on. Fela Anikulapo Kuti was without a doubt one of the greatest musical figures to ever emerge from Africa. Femi is using the tools Fela left to build his own Afrobeat machine, a well-oiled one that is both mapped out and spontaneous, both a party and a symposium advocating change in a country still beset by divisive problems. Over here in the U.S., bands like Antibalas are expertly applying the Afrobeat spirit to a universal message of a call to action, while over in Africa, the bloodline in which that spirit and message were born continues to send out the call. - Tom Orr
For a limited time in 2005, you can get this set as a free gift when you subscribe to RootsWorld
Available at cdroots.com