The Book of Klezmer
by Yale Strom
A Capella Books - Chicago, Illinois - 380 pg (www.ipgbook.com)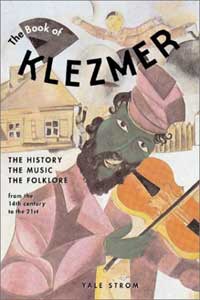 During the past thirty years "klezmer" has taken on new meanings as American Jews have tried to rediscover cultural bonds with their European ancestry, severed by the genocide of World War II. Consequently the music has expanded wildly beyond its original boundaries and has taken a place on the current "world music" stage. Yale Strom's "The Book of Klezmer" is, by far, the best book on the history and folklore of instrumental Jewish music.
The first chapter rips through 350 years of history, and the writing occasionally almost deteriorates to lists of names and places. The dearth of information on this long, early era of Jewish music is probably the cause for this sketchiness.
The other chapters are strong, dealing, respectively, with Central and East European klezmer from the mid-19th Century to the Holocaust, the first generations of the music in America and, the recent renaissance and creation of a new ethos (or perhaps a series of them) for Jewish instrumental music.
There are descriptions of all the instruments historically connected with this music and of the rituals for which these musicians played. Strom's detailing of the latter illuminates just what went on in the wedding ceremonies that lasted for days and gives meaning to typically enigmatic titles in the klezmer repertoire ("table melody", "seating the bride", "in-law's dance", etc.).
Strom's personal research with both Jewish and Rom survivors (the latter commonly played Jewish music) in Eastern Europe, and his examination of survivors' "Books of Remembrance" contribute substantial knowledge to the life and milieu of shtetl (small town) klezmorim. There also are sizable quotes from major figures of the current generation of players that are both provocative and enlightening. Importantly, Strom discusses the very different history and status of this music in Israel.
There is a short section of twelve klezmer tunes, with some annotation, which seem added on as an afterthought. However they are previously unpublished pieces collected by Strom and so are valuable additions to the repertoire.
And, miracle of miracles, finally some photos other than the dozen or so that have appeared in every klezmer-oriented publication (including my own). This book is very highly recommended to everyone with even a passing interest in the roots and branches of Jewish instrumental music. - Stacy Phillips
The Book of Klezmer is available from cdroots.com